The work of Jennifer McElwain
by the Understanding Evolution team
Dr. Jennifer McElwain's laboratories at University College Dublin in Ireland are stocked with powerful microscopes for studying the delicate structure of leaves, acids for eating away the rock around fossils, and growth chambers for running experiments on modern plants. Over the past five years, she and her team have made two expeditions to Greenland where they collected over two and half tons of fossils — all the while roughing it in tents, cooking on a gas stove, and washing in a stream. The point of all this work? Counting microscopic pores on the surface of tiny fossilized leaves — many no bigger than a pencil eraser.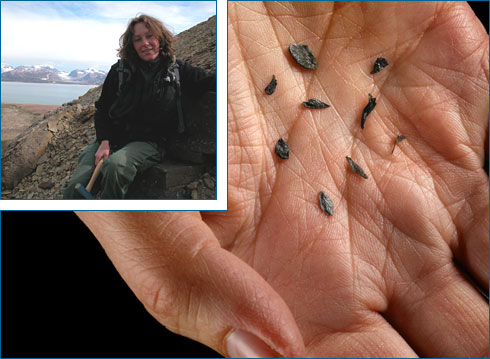 That might seem like a trivial task — but in fact, such details are important clues about the major climate changes that have shaped life over the course of Earth's 4.6 billion year history. Jennifer's research helps unravel global environmental cycles that allow us to understand how human activities affect the planet's climate today and in turn, how those activities will impact the diversity of life on Earth tomorrow.
In this research profile, we will explore these key questions:
What tradeoff does a plant face by opening its stomata?
How have geologic activity and changes in the atmosphere affected the diversity of life on Earth?
What is the greenhouse effect and how has it played into the history of life?
What role does extinction play in the process evolution?