Rarely does pure science take top billing in the news, but this past month saw a notable exception. The front page of the New York Times was occupied by the image of an ancient hominid skull caked in dirt. This 1.8 million-year-old fossil, excavated in the Republic of Georgia, represents the oldest complete adult cranium of a hominid yet discovered. That alone would be significant news, but the context in which the fossil was preserved adds even more weight to the discovery…
Where's the evolution?
The new cranium was found in the same location as four other skulls that were deposited around the same time — each in the burrow of an ancient carnivore. Clearly, our ancestors were not at the top of the food chain! But more significant than their grisly deaths is the shapes of their skulls. They are not particularly similar to one another. Each clearly belongs to the Homo lineage, but if they had been found in distinct locations or were from different time periods, they likely would have been classified as different species. Yet, we know that these human relatives were all living in the same place at the same time.
The international team of researchers behind the work contends that all five skulls (and by extension many similar fossils discovered previously in Africa) belong to the same species. They suggest that the physical differences between these fossils simply reflects the normal variation among individuals of the same species — just as you look different from every other human on Earth and individual chimpanzees all look different from one another. In support of their hypothesis, the researchers measured the physical differences between the fossil Homo skulls and found them to be no greater than the range of variation within modern human or chimpanzee populations. Perhaps then, many of our ancient human relatives were erroneously assumed to be of different species based on unimportant differences in shape and because they were found in different localities. The researchers argue that the distinction between fossils assigned to Homo erectus, H. rudolfensis, and H. habilis should be re-examined. They may represent not distinct branches on the tree of life, but a single limb.
Some publications have described this discovery as upsetting everything we know about human evolution, but that is an exaggeration. Our main understandings of human evolution (e.g., that our ancestors parted evolutionary ways with chimpanzees' ancestors about six million years ago and evolved into modern humans in Africa) remain unchanged. Furthermore, argument and reinterpretation are normal, healthy parts of the process of science. In fact, this particular debate — whether the Georgian skull and Homo fossils of similar ages represent a single species or multiple species — is a common one throughout biology. It is often described as "lumping" versus "splitting."
The argument about whether groups of organisms should be "split" into distinct species is particularly common in paleontology. Generally, closely related groups of organisms constitute distinct species when they are on separate evolutionary tracks, which usually occurs because of lack of interbreeding between the two groups. However, when it comes to fossils, most lines of evidence that would inform us about evolutionary trajectories and reproduction have degraded away over time. Only in rare cases can genetic information be recovered from fossils, and few fossils are preserved with any clues about the behavior of the organism. Species are not defined by their appearances, but when it comes to long-extinct organisms, physical traits (i.e., morphology) may be the only information we have to go on!
There are many reasons that two members of the same species might look different — sex (e.g., in some species, males are larger), age (e.g., many organisms develop distinct features, like horns, as they grow older), disease (e.g., poor nutrition, genetic diseases, and infectious diseases all have the potential to change the shapes and sizes of bones), and natural genetic variation from one individual to the next (e.g., some individuals may just naturally have longer legs than others). Such differences could be resolved if the organisms were alive, but with only fossils to go off of, paleontologists have to do the best they can with the available evidence.
As biologists discover new evidence, they reconsider their old ways of classifying fossil forms. This can result in lumping previously distinct species into one. For example, recently three distinct-looking pachycephalosaur dinosaurs (Dracorex hogwartsia, Stygimoloch spinifer, and Pachycephalosaurus wyomingensis) were recognized as the juvenile, adolescent, and adult forms of the same species. A similar lumping has occurred within the triceratops lineage. And paleoanthropologists have long argued about whether 13,000-year-old, three-foot tall hominid bones from Indonesia are those of diseased modern humans or a unique lineage with short stature.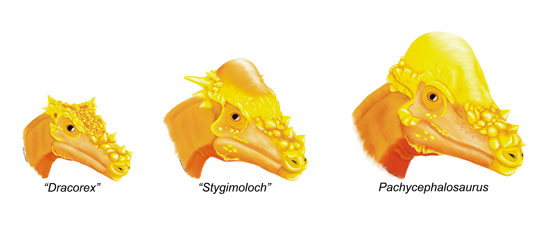 In this context, the discovery of the Georgian hominid fossils and the debate they inspired should come as no surprise. Exactly how many different hominid lineages make up our branch of the tree of life? With the currently available evidence, we can't yet be sure, but one thing is certain: we haven't seen the last of this debate! As new Homo and other fossils are discovered and analyzed, lumpers and splitters will continue to refine our understanding of the history of life on Earth.
Primary literature:
Horner, J. R., and Goodwin, M. B. (2009). Extreme cranial ontogeny in the Upper Cretaceous dinosaur Pachycephalosaurus. PLoS ONE. 4: e7626. Read it »
Lordkipanidze, D., Ponce de León, M. S., Margvelashvili, A., Rak, Y., Rightmire, G. P., Vekua, A., and Zollikofer, C. P. E. (2013). A complete skull from Dmanisi, Georgia, and the evolutionary biology of early Homo. Science. 342: 326-331. Read it »
News articles:
Understanding Evolution resources:
Teach about making species designations with limited information: In this lab activity for grades 9-12, students examine authentic morphological and phylogenetic data for three fish families and then pose and test alternative hypotheses about the fishes' classification.
Teach about human evolution: In this activity for grades 9-16, students describe, measure, and compare cranial casts from contemporary apes, modern humans, and fossil hominids to discover some of the similarities and differences between these forms and to see the pattern leading to modern humans.
Teach about how the media portrays human evolution: This article for grades 9-16 addresses the discovery of new hominid fossils and the occasionally misleading news coverage of the research.
Horner, J. R., and Goodwin, M. B. (2009). Major cranial changes during Tricetatops ontogeny. Proceedings of the Royal Society B. 273: 2757-2761.
Horner, J. R., and Goodwin, M. B. (2009). Extreme cranial ontogeny in the Upper Cretaceous dinosaur Pachycephalosaurus. PLoS ONE. 4: e7626. doi:10.1371/journal.pone.000762
Lordkipanidze, D., Ponce de León, M. S., Margvelashvili, A., Rak, Y., Rightmire, G. P., Vekua, A., and Zollikofer, C. P. E. (2013). A complete skull from Dmanisi, Georgia, and the evolutionary biology of early Homo. Science. 342: 326-331.
Morwood, M. J., Brown, P., Jatmiko, Sutikna, T., Saptomo, E. W., Westaway, K. E., ... and Djubiantono, T. (2005). Further evidence for small-bodied hominins from the late pleistocene of Flores, Indonesia. Nature. 437: 1012-1017.
Sample, I. (Oct. 17, 2013). Skull of Homo erectus throws story of human evolution into disarray. The Guardian. Retrieved October 24, 2013 from The Guardian (http://www.theguardian.com/science/2013/oct/17/skull-homo-erectus-human-evolution).
Scannella, J. B., and Horner, J. R., (2010). Torosaurus Marsh, 1891, is Triceratops Marsh, 1889 (Ceratopsidae: Chasmosaurinae): synonymy through ontogeny. Journals of Vertebrate Paleontology. 30: 1157-1168.