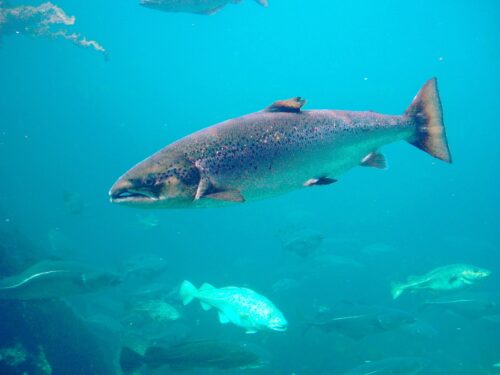 You can't tell when it's on your dinner plate, but wild salmon have been shrinking. Salmon from populations around the world now have smaller body sizes than they did 30 to 60 years ago.  While the causes of this shift aren't always clear, potential culprits include fishing, climate change, and competition for food (e.g., from hatchery-bred salmon).  Now, new research untangles the probable causes of reduced body size in one population of wild Atlantic salmon – and demonstrates how the impacts of human activities can ripple through ecosystems.
Where's the evolution?
Salmon hatch in freshwater streams and then make their way downstream to the ocean, where they eat and grow. When they reach maturity, they swim back to where they hatched to spawn and lay their eggs, after which, most die. Since the 1970s, salmon from the Teno River of Norway and Finland have been monitored as they make this trek upstream, so we have a record of how large the fish were, how they were caught, and importantly, a sample of the scales from each fish. These scales hold a wealth of information about the fish – its age, the number of years it spent in the river, the number of years it spent at sea, and, of course, its DNA.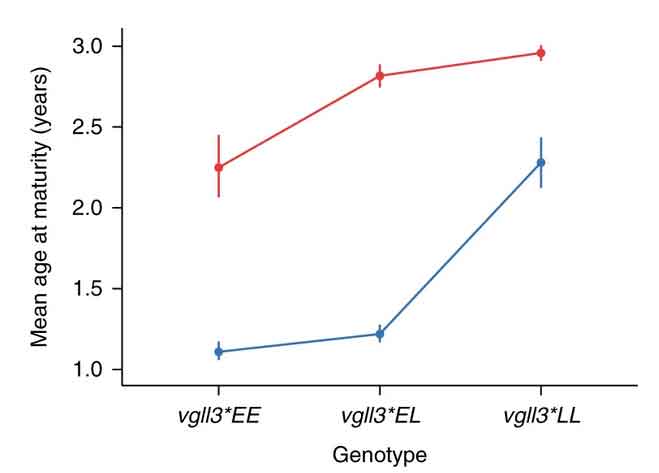 Those data from fish scales showed that, over the last 30-40 years, male salmon from this population have begun maturing and spawning almost a full year earlier than they used to.  Because they are becoming adults sooner, these males are correspondingly smaller.  The researchers traced this shift to a gene called vgll3.  Salmon with the E (early) version of this gene (also called an allele) mature earlier and are smaller than salmon with the L (late) version of this gene. EE individuals tend to be youngest at maturity, LL oldest, and EL fish somewhere in between.  Over the study period, the L version of the gene became rarer, as did large, late-maturing salmon.
This was a clear case of evolution – a shift in the gene frequency (also called allele frequency) in the population – but the scientists studying the fish weren't sure of the cause. Their default hypothesis was one that seems like it might explain decreasing body size in many fish species: natural selection caused by humans fishing for big fish. Human preferences (as well as the size of the holes in our nets) could weed large, late-maturing fish (and their gene versions) out of the population and lets smaller, early maturing fish survive to reproduce, spreading the gene versions for smaller bodies and early maturation.
To study the cause of this evolutionary change in the Teno population, the scientists assembled 40 years' worth of data on all the factors that they thought might affect the success of early or late-maturing fish at reproducing and, hence, might be the cause of the evolution they'd observed. They looked at how much the river was being fished with different types of nets and rods, the sea temperature, and the amount of different prey species available to the salmon (including krill, herring, and a small fish called capelin). The researchers teased out how changes in these factors were related to changes in how common the L gene version was in the population.  They reasoned that if a change in one factor reliably correlated with a change in the gene frequency, there was a good chance that factor was a cause of the evolution.
Two factors popped out as consistently important. First, the number of net fishing licenses given was strongly related to changes in gene frequency – but not in the direction one would expect! Net fishing was linked to evolutionary shifts towards later maturation and larger bodies. That seems counterintuitive, but when the researchers dug into data on the different types of nets used in the river, they found that the most common type tends to capture early maturing, small fish. The researchers consulted indigenous Sámi fishers, who explained how this netting technique might wind up (literally) skimming younger individuals out of the gene pool, helping make sense of that surprising observation.
Second, the researchers found that food was important, especially capelin. The fewer capelin available to the salmon at sea, the more frequent the early-maturing E gene version was.  This made perfect sense. When there's not enough to eat, late-maturing fish, which need an extra year in the ocean, could easily die before reaching the size and age to reproduce. When food is scarce, early maturing fish, which don't grow as much before reproducing, do better.
Net fishing seems to push the evolution of Teno salmon in one direction (towards larger body sizes) and dwindling capelin supplies in another (towards smaller body sizes). Over the last 40 years, fewer and fewer net fishing licenses have been issued for the Teno river, in part because of tighter fishing regulations. And over the same period, the capelin population crashed several times.  The outcome of these opposing factors was an overall decrease in the size and maturation age of the Teno salmon. Capelin availability is tipping the scales in this evolutionary balancing act.
So why are capelin such an unreliable food source for the salmon? Capelin are the focus of industrial fishing efforts – but are not destined for human consumption.  Instead, we harvest them in vast quantities to feed farmed animals – often farmed salmon. While it might seem that eating farmed fish would benefit wild salmon by keeping them off our dinner plates, in fact, ocean farming presents a variety of threats to wild populations by releasing waste, pesticides, and antibiotics into the ocean and by serving as a breeding ground for parasites and diseases.  The new research suggests that this threat is not just ecological but also evolutionary: as we usurp fish stocks to feed our farmed salmon, we are changing the evolutionary trajectory of this wild population.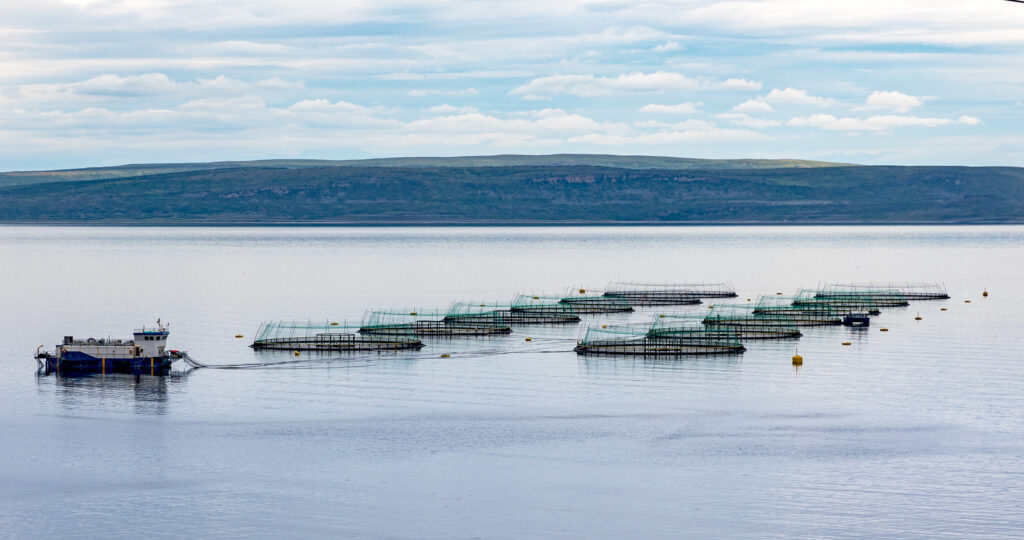 Primary literature:
Czorlich, Y., Aykanat, T., Erkinaro, J., Orell, P., and Primmer, C. R. (2022). Rapid evolution in salmon life history induced by direct and indirect effects of fishing. Science. 376: 420-423. Read it »
News articles:
Understanding Evolution resources:
What is the key evidence the researchers discovered indicating that an evolutionary change had occurred in the Teno salmon?
What evidence from the article above suggests that the vgll3 gene affects age at maturity in salmon?
In your own words, explain the researchers' "default hypothesis" about the cause of the evolution of decreased body size in Teno salmon.
What two factors seemed to be causing the evolution of the Teno salmon?

For each factor, explain how it seems to be shaping the evolution of size and age at maturity in the salmon.
What evidence do the researchers have that these factors could be the cause of the evolution?
Teach about how harvesting of wild populations can cause evolution: This research profile for grades 9-16 follows scientist David O. Conover as he investigates the impact of our fishing practices on fish evolution and discovers what happened to the big ones that got away.
Teach about selection: In this classroom activity for grades 6-16, students learn how artificial selection can be used to develop new dog breeds with characteristics that make the dogs capable of performing a desirable task.
Teach about Mendelian genetics and evolution: This case study for grades 13-16 examines the evolution of the wrinkled pea from its ancestral round pea shape.
Czorlich, Y., Aykanat, T., Erkinaro, J., Orell, P., and Primmer, C. R. (2018). Rapid sex-specific evolution of age at maturity is shaped by genetic architecture in Atlantic salmon. Nature Ecology & Evolution. 2: 1800-1807.
Czorlich, Y., Aykanat, T., Erkinaro, J., Orell, P., and Primmer, C. R. (2022). Rapid evolution in salmon life history induced by direct and indirect effects of fishing. Science. 376: 420-423.
Heino, M., Pauli, B. D., and Dieckmann, U. (2015). Fisheries-induced evolution. Annual Review of Ecology, Evolution, and Systematics. 46: 461-480.
Hjermann, D. O., Ottersen, G., and Chr. Stenseth, N. (2004). Competition among fishermen and fish causes the collapse of Barents Sea capelin. Proceedings of the National Academy of Sciences. 101: 11679-11684.
Zavolokin, A. V., Zavolokina, E. A., and Kholkhlov, Y. N. (2009). Changes in size and growth of Anadyr chum salmon (Oncorhynchus keta) from 1962–2007. North Pacific Anadromous Fish Commission. Bulletin No. 5: 157-163.