Andy and other evolutionary engineers use the principles of natural selection to build useful RNA molecules in the lab. The overall process is not complex, but understanding it does require knowing a few details:
DNA is a long sequence of smaller units strung together. There are four basic types of unit (represented by the letters A, T, G, and C), and these can be strung together in any combination.
RNA is also built from similar units (A, U, G, and C) that can be strung together in any combination.

A sequence of DNA can be transcribed into a sequence of RNA. Our cells do this all the time in order to send messages from the DNA to the protein-synthesis centers in the cell.
The polymerase chain reaction (or PCR) is an automated process used by molecular biologists and evolutionary engineers to quickly copy DNA strands in the lab.
Building a useful RNA molecule using directed evolution involves going through a DNA "stage." This is how the process could be used to build an RNA molecule that will bind to a certain toxin:
1. A computerized DNA synthesizer builds many billions of random DNA sequences. This produces a test tube of DNA fragments with different random sequences.
2. The DNA is transcribed into RNA. Of course, most of the RNA molecules are completely useless — but a few just happen to be able to bind to the toxin. That's why it's important to start with millions of billions of sequences — the more sequences, the greater the chance that one of them will do the job. It's a bit like buying a million lottery tickets instead of just one in order to increase your chances of winning.

3. The RNA is tested for ability to bind to the toxin. The RNAs that are able to bind are separated out. However, this process is imprecise, and some useless RNAs are selected along with those that bind. This is like trying to pull a needle out of a haystack while wearing a baseball glove — you'll get the needle, but you'll also get a whole lot of hay.

4. The selected RNAs are reverse transcribed back into DNA.
5. The DNA is copied using PCR.

6. The process is repeated starting with Step 2. With each repetition, a greater and greater percentage of the RNA "population" is made up of useful molecules. In other words, with each repetition, we are building more "needles" — and each time that you reach into the haystack with your baseball glove, you get more needles and less hay than in the previous round.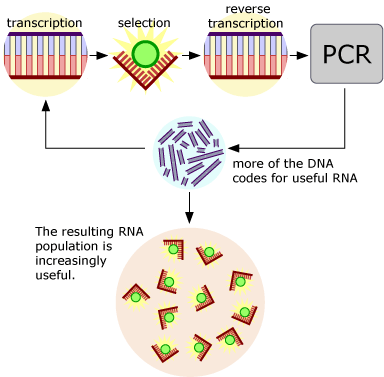 Eventually, the population will be almost entirely made up of RNA molecules that bind the toxin.