Found 2 resources for:
History of evolutionary theory
Grade Level(s):
Source:
Resource type:
Time: 30 minutes
Overview
When biologist Lynn Margulis revived the strange-sounding idea that the merging of cells played a prominent role in the evolution of complex life, the scientific community roundly rejected the notion. Today, this idea is accepted as a textbook fact. Learn more about the evidence and social factors that spurred the acceptance of this key aspect of evolutionary theory.
This article is available from the Understanding Science website.
View details >>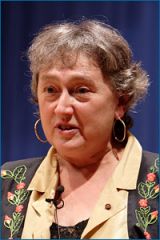 Grade Level(s):
Source:
UC Museum of Paleontology
Resource type:
Time: 40 minutes
Overview
Darwin used the words "extreme imperfection" to describe the gappy nature of the fossil record - but is this really such a problem? This article delves into the topic of transitional fossils and explores what we have learned about them since Darwin's time.
This article appears at SpringerLink.
View details >>