Mutations, changes in DNA, are the victims of bad press — unfairly stereotyped as unimportant or as a cause of genetic disease. While many mutations do indeed have small or negative effects, another sort of mutation gets less press. Mutations to control genes can have major (and sometimes positive) effects. This sort of mutation has likely played an important role in arthropod evolution.
Who's the boss?
Some regions of DNA control other genes, determining when and where other genes are turned "on". Mutations in these parts of the genome can substantially change the way the organism is built. The difference between a mutation to a control gene and a mutation to a less powerful gene is a bit like the difference between whispering an instruction to the trumpet player in an orchestra versus whispering it to the orchestra's conductor. The impact of changing the conductor's behavior is much bigger and more coordinated than changing the behavior of an individual orchestra member. Similarly, a mutation in a gene "conductor" can cause a cascade of effects in the behavior of genes under its control.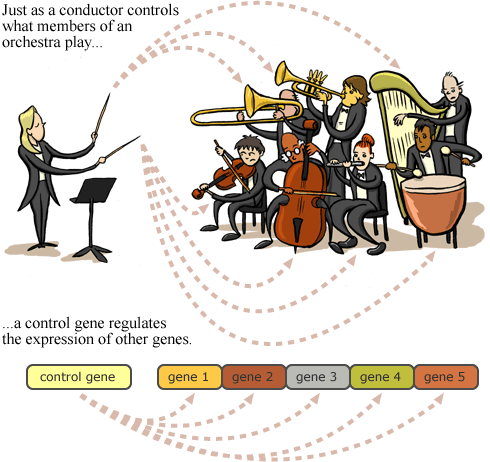 Many organisms have powerful control genes that determine how the body is laid out. For example, Hox genes are found in many animals (including flies and humans) and designate where the head goes and which regions of the body grow appendages. Such master control genes help direct the building of body "units," such as segments, limbs, and eyes. So evolving an extra segment or pair of legs is not so unlikely; it may simply require a change in a Hox gene and the favor of natural selection.
Mutations to control genes can transform one body part into another. Scientists have studied flies carrying Hox mutations that sprout legs on their foreheads instead of antennae!