Conclusions of science are reliable, though tentative
Science is always a work in progress, and its conclusions are always tentative. But just as the word "theory" means something special to the scientist, so too does the word "tentative." Science's conclusions are not tentative in the sense that they are temporary until the real answer comes along. Scientific conclusions are well founded in their factual content and thinking and are tentative only in the sense that all ideas are open to scrutiny. In science, the tentativeness of ideas such as the nature of atoms, cells, stars or the history of the Earth refers to the willingness of scientists to modify their ideas as new evidence appears.
Science is not democratic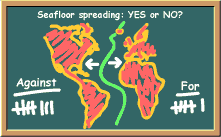 Scientific ideas are subject to scrutiny from near and far, but nobody ever takes a vote. If the question of plate tectonics had been decided democratically when it was first presented in the early twentieth century, we would, today, have no explanation for the origins of much of Earth's terrain. Scientific ideas are accepted or rejected instead on the basis of evidence.
Science is non-dogmatic
Nothing in the scientific enterprise or literature requires belief. To ask someone to accept ideas purely on faith, even when these ideas are expressed by "experts," is unscientific. While science must make some assumptions, such as the idea that we can trust our senses, explanations and conclusions are accepted only to the degree that they are well founded and continue to stand up to scrutiny.
Science cannot make moral or aesthetic decisions
Scientists can infer the relationships of flowering plants from their anatomy, DNA, and fossils, but they cannot scientifically assert that a rose is prettier than a daisy. Being human, scientists make moral and aesthetic judgments and choices, as do all citizens of our planet, but such decisions are not part of science.