Image Caption
What was once a continuous population is divided into two or more smaller populations. This can occur when rivers change course, mountains rise, continents drift, or organisms migrate. The geographic barrier isn't necessarily a physical barrier that separates two or more groups of organisms, it might just be unfavorable habitat between the two populations that keeps them from mating with one another.
Image use policy: For non-commercial, educational purposes, this image may be used with a Creative Commons CC BY-NC-SA 4.0 license. Please credit as follows: © University of California Museum of Paleontology, Understanding Evolution, www.understandingevolution.org
See where this image appears on the Understanding Evolution website »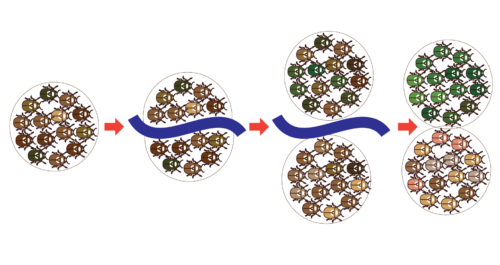 To save: 1) Click on image for the full-size version, 2) right-click (Windows) or control-click (Mac) on the image, and 3) select "Save image."