Grade Level(s):
Source:
UC Museum of Paleontology
Resource type:
Time: 15 minutes
Overview
In October 2011, the World Health Organization announced that tuberculosis cases are on the decline for the first time in at least 20 years. Our battle against this ancient disease has been fought, in part, through the use of antibiotics like streptomycin. This news brief describes the 1.8 billion year evolutionary history behind these drugs.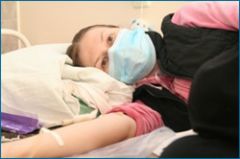 [History of life: Grades 13-16]

Present-day species evolved from earlier species; the relatedness of organisms is the result of common ancestry.

[History of life: Grades 13-16]

The early evolutionary process of eukaryotes included the merging of prokaryote cells.

[Studying evolution: Grades 13-16]

As with other scientific disciplines, evolutionary biology has applications that factor into everyday life, for example in agriculture, biodiversity and conservation biology, and medicine and health.
There are no NGSS/DCI concepts currently linked to this resource.