Grade Level(s):
Source:
UC Museum of Paleontology
Resource type:
Time: 5 minutes
Overview
This short slide set explains how some antibiotics target the bacterial ribosome and don't attack the ribosomes in our own cells through a quirk of evolutionary history. Save the slide set to your computer to view the explanation and notes that go along with each slide.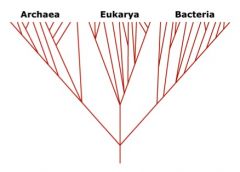 [History of life: Grades 13-16]

Present-day species evolved from earlier species; the relatedness of organisms is the result of common ancestry.

[History of life: Grades 13-16]

Through billions of years of evolution, life forms have continued to diversify in a branching pattern, from single-celled ancestors to the diversity of life on Earth today.

[History of life: Grades 13-16]

The early evolutionary process of eukaryotes included the merging of prokaryote cells.

[Evidence of evolution: Grades 13-16]

An organism's features reflect its evolutionary history.
There are no NGSS/DCI concepts currently linked to this resource.