Image Caption
Now imagine a small population of all small-beaked individuals (all bb genotypes). They have a high fitness (they are at a local peak), but not as high as a population of big-beaked individuals. Through gene flow some B alleles are introduced to the population. If selection alone were acting, it would weed these alleles out of the population since they would show up in Bb individuals with lower fitness. Under selection alone, the population could never reach the higher BB fitness peak.
Image use policy: For non-commercial, educational purposes, this image may be used with a Creative Commons CC BY-NC-SA 4.0 license. Please credit as follows: © University of California Museum of Paleontology, Understanding Evolution, www.understandingevolution.org
See where this image appears on the Understanding Evolution website »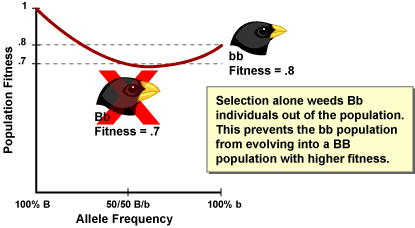 To save: 1) Click on image for the full-size version, 2) right-click (Windows) or control-click (Mac) on the image, and 3) select "Save image."
This image is part of a series: