Image Caption
Sparrow populations in the north are larger-bodied than sparrow populations in the south. This divergence in populations is probably at least partly a result of natural selection: larger-bodied birds can often survive lower temperatures than smaller-bodied birds can. Colder weather in the north may select for larger-bodied birds. As this map shows, sparrows in colder places are now generally larger than sparrows in warmer locales. Since these differences are probably genetically based, they almost certainly represent microevolutionary change: populations descended from the same ancestral population have different gene frequencies.
Image use policy: For non-commercial, educational purposes, this image may be used with a Creative Commons CC BY-NC-SA 4.0 license. Please credit as follows: © University of California Museum of Paleontology, Understanding Evolution, www.understandingevolution.org
See where this image appears on the Understanding Evolution website »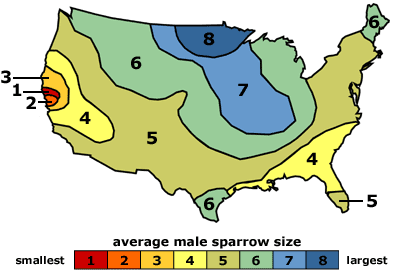 To save: 1) Click on image for the full-size version, 2) right-click (Windows) or control-click (Mac) on the image, and 3) select "Save image."