Image Caption
Hypothesis 3: Macromutation — a big mutation produces sudden evolutionary change skipping over transitional forms. The "burst" of evolution is really a burst — there was a lot of evolutionary change in a very short amount of time. Species 3 was produced by a mutation that radically changed the offspring of ancestor 1 in many ways. Such extreme mutants are sometimes called "hopeful monsters." This hypothesis is consistent with the fossils; however, based on other observations, we do not have clear evidence that such extreme yet adaptive mutations generally occur. Nevertheless, it is possible that mutations affecting development have far-reaching phenotypic effects and have played an important role in the evolution of life.
Image use policy: For non-commercial, educational purposes, this image may be used with a Creative Commons CC BY-NC-SA 4.0 license. Please credit as follows: © University of California Museum of Paleontology, Understanding Evolution, www.understandingevolution.org
See where this image appears on the Understanding Evolution website »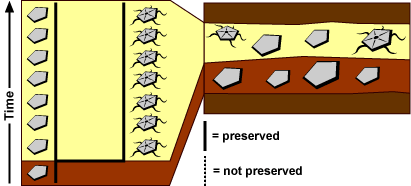 To save: 1) Click on image for the full-size version, 2) right-click (Windows) or control-click (Mac) on the image, and 3) select "Save image."
This image is part of a series: