Image Caption
As the island population grows, the unique reproductive features on the island result in a cascade of changes caused by sexual selection. These changes optimize, or at least improve, the fit of male and female genitalia to one another and female sensitivity to nuances of the mating ritual. Flies also experience natural selection that favors individuals better suited to the climate and food of the island.
Image use policy: For non-commercial, educational purposes, this image may be used with a Creative Commons CC BY-NC-SA 4.0 license. Please credit as follows: © University of California Museum of Paleontology, Understanding Evolution, www.understandingevolution.org
See where this image appears on the Understanding Evolution website »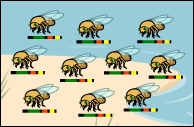 To save: 1) Click on image for the full-size version, 2) right-click (Windows) or control-click (Mac) on the image, and 3) select "Save image."
This image is part of a series: