Image Caption
Stomata of fossil plants can be used to directly estimate past carbon dioxide levels, and those carbon dioxide levels can then be used to make an indirect estimate of temperature. Typically (although there are exceptions to the rule), fossils with many stomata (low carbon dioxide) came from times of low global temperature, and fossils with few stomata (high carbon dioxide) came from times of high global temperatures.
Image use policy: For non-commercial, educational purposes, this image may be used with a Creative Commons CC BY-NC-SA 4.0 license. Please credit as follows: © University of California Museum of Paleontology, Understanding Evolution, www.understandingevolution.org
See where this image appears on the Understanding Evolution website »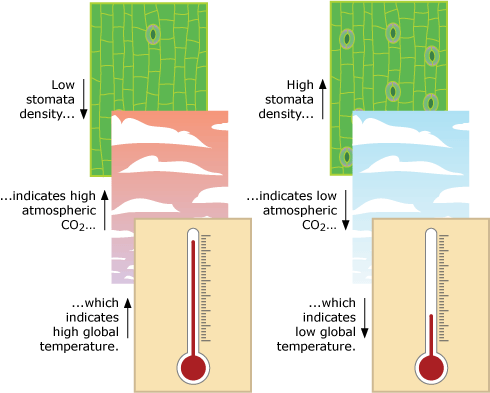 To save: 1) Click on image for the full-size version, 2) right-click (Windows) or control-click (Mac) on the image, and 3) select "Save image."
This image is part of a series: