An evolutionary tree is a hypothesis about the relationships among a group of organisms — but hypotheses don't materialize out of thin air; they are based on data. To reconstruct evolutionary trees, biologists carefully study the characters (i.e., characteristics) of the organisms and then use the methods of phylogenetic systematics to figure out the probable evolutionary history that led to those observed characters. Knowing this evolutionary history is important because it helps researchers figure out when, where, and why different lineages evolved.
But what does it mean when biologists can't agree on the most accurate evolutionary tree? This has been a major problem for the field of paleoanthropology, in which every new fossil discovery seems to spawn a new hypothesis about the structure of our own little branch on the tree of life.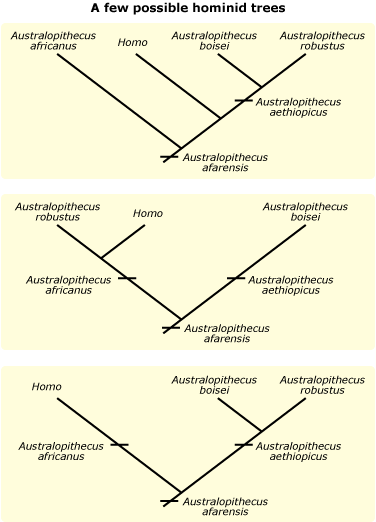 Many would argue that the problem is lack of data: we just don't have enough fossils yet to figure those relationships out — but Leslea Hlusko disagrees. Compared to other mammalian families, the hominid fossil record is quite complete. So then, what's the problem — if not lack of data? According to Leslea, we are simply looking at the data in the wrong way. Ideally, we would like to know the genetics that underlie different physical traits and use that understanding to reconstruct an evolutionary tree. Unfortunately, this is impossible for extinct lineages (like most of the hominid family tree), since the organisms, along with their DNA, decomposed long ago. Instead, we use anatomical characters (preserved in fossils) as stand-ins for the genes that underlie those physical features. The problem, says Leslea, is that "anatomists have given names to everything…and everything that they had named and measured separately has been at one time or another considered a different character. But that's probably not true from a genetic perspective — you can't have 492 individuals traits in the cranium and the dentition — because there's just got to be genes that are influencing more than one of those traits." So traditional methods for identifying characters in fossils double count some genes and miss others entirely. The result is that every study makes a different set of mistakes and comes up with a different hypothesis about hominid relationships.
Leslea's research into the genetic basis of tooth shape in modern baboons suggests that a genome builds an organism in a very different way than an anatomist would divide it up: "The genetic system that evolved to produce these teeth is not laid out in the way that an engineer might decide to do it; the genetic system that evolved is a lot more complicated and quirky — it's 'unintelligent design.'" Luckily, Leslea's research can also identify which anatomical characteristics of baboon teeth are affected by the same genes and which are independent. Lelsea hopes to apply this understanding of the genetics behind baboon teeth to other primates, with the ultimate goal of untangling hominid relationships. As she puts it, "What I'm doing is trying to redefine phenotypes — so instead of using anatomical nomenclature to define phenotypes, we are actually using the genetic architecture to define the phenotypes…and if we can define our phenotypes better, we actually do have the fossil data to apply to the problem of figuring out hominid relationships."