Investigating insects in a warming world
Instructional Unit on Adaptation and Evolution: Phenotypic/Genotypic Response to Climate Change in Lady Beetles
Overview
Read about the corresponding research of Elizabeth Dahlhoff and Nathan Rank
The Beetle Project uses insects as a model system to illustrate the biological impacts of climate change, with the goal of engaging students with a range of hands-on and minds-on activities that increase their understanding of how science works, evolutionary processes, and the impacts of climate change. Module components can be combined in different ways and include:
a set of whole-organism/behavior lab activities using lady beetles (also known as ladybugs or ladybird beetles)
a paper-and-pencil Data Nugget data analysis activity
reading with discussion questions that highlights scientific research paralleling student lab activities
extension lessons drawn from freely available materials produced by the University of Florida
extension lessons for AP Biology.
Suggestions are included to adapt materials for students who need more or less scaffolding, and for classrooms with greater or lesser access to lab resources.
Instructional level: high school biology, AP Biology, college-level introductory biology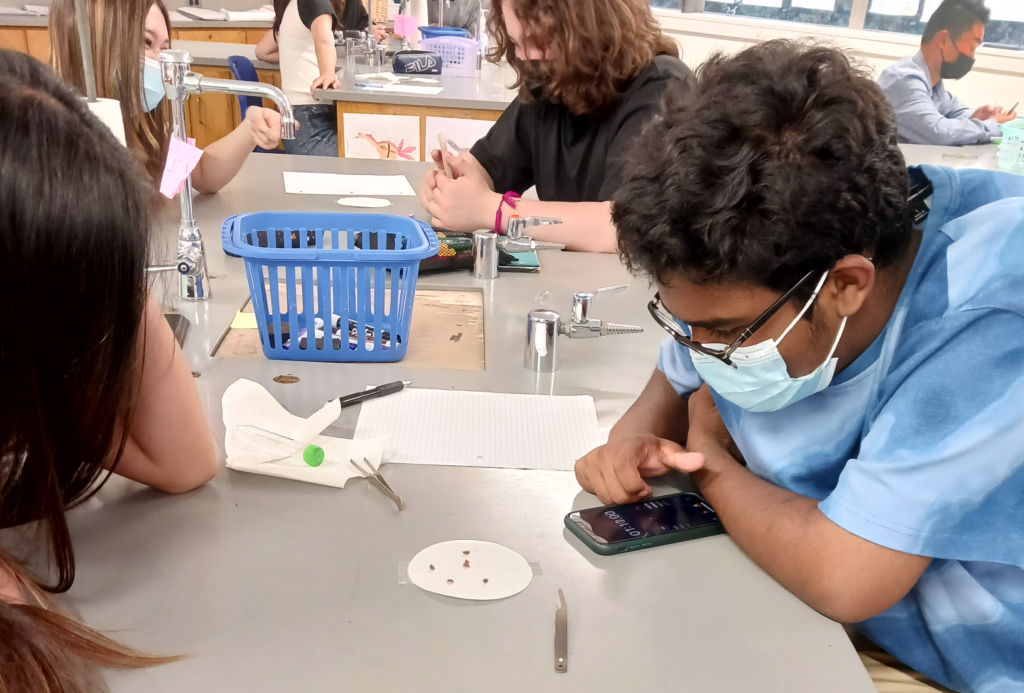 Curriculum overview
Lesson 1 investigates the question, "How are organisms responding to rapid ecosystem change?". Students will understand that climate change involves not only global warming but also increased weather extremes and seasonal shifts. They will learn how certain kinds of insects survive the winter. Optional additions and extensions teach students to distinguish between genotypic and phenotypic variation, explain the concept of phenotypic plasticity, and identify particular species that may be better suited to survive extreme climate events.
In Lesson 2, students are introduced to lady beetles as a model organism. Students use their learning to explore how lady beetles might respond to environmental temperature change.
Lesson 3 allows students to test their exploratory ideas. Different lab options include:
A guided inquiry lab, in which students measure the Chill Coma Recovery Time of beetles from a known geographical location and compare it to beetles from other locations.
An open inquiry lab, in which students design and conduct their own experiments to measure Chill Coma Recovery time as a function of self-identified variables.
A dry lab/data analysis option; which may be used if either inquiry lab is not feasible, or as an extension.
The laboratory experiment in brief: A useful, quantifiable trait in lady beetles and their relatives is their natural ability to enter Chill Coma.  Chill coma is a reversible total paralysis; emergence from chill coma can be timed.  This measurable parameter is known as Chill Coma Recovery Time (CCRT). CCRT may show both geographic variation among lady beetle populations, and temporal variation during different seasons. Students place groups of live lady beetles into culture tubes and immerse the tubes in crushed ice. After 24 hours, students time the emergence of their beetles from Chill Coma. Class results are compiled and compared to existing outcomes.
Pacing guide (based on 1-hour lessons)
Suggested prerequisite knowledge:
Basic understanding of the causes of global climate change
Basic graphing and statistics (histograms, mean, standard error)
LESSON 1 (1 lesson period)
Short film + discussion
Article: "Extreme Weather"
Student research: "How do insects survive the winter?"
LESSON 2 (1 lesson period)
Introduction to lady beetles
Student design of experiment
LESSON 3 (2 lesson periods)
Guided inquiry lab (2 lesson periods) OR open inquiry lab (2+ lesson periods)
Data Nugget (1 lesson period)
Optional elaboration/extension lessons (1-3 lesson periods, suggested placement: during or after Lesson 1)
Introduction to phenotypic plasticity
Whiplash weather and phenotypic plasticity
Student activity: "Winners and Losers"
AP-level lesson sequence with different pacing is available in the first tab below.
Let's connect!
Educators who have implemented these lab activities in their classroom are invited to connect their students directly with an evolutionary biologist from our team. Just fill out this feedback survey, and we'll arrange a video chat between your classroom and a UC Berkeley scientist. You can also submit photos of experimental set-ups your students have designed, as well as their results. We're also curious to hear how you implemented these labs and about your students' results.  Email us at beetleproject@LISTS.berkeley.edu.
Need help? Email us at beetleproject@LISTS.berkeley.edu.
Most materials are downloads in .docx format.
HS-LS2-2. Use mathematical representations to support and revise explanations based on evidence about factors affecting biodiversity and populations in ecosystems of different scales.
HS-LS2-6. Evaluate the claims, evidence, and reasoning that the complex interactions in ecosystems maintain relatively consistent numbers and types of organisms in stable conditions, but changing conditions may result in a new ecosystem.
HS-LS3-1. Ask questions to clarify relationships about the role of DNA and chromosomes in coding the instructions for characteristic traits passed from parents to offspring.
HS-LS3-2. Make and defend a claim based on evidence that inheritable genetic variations may result from: (1) new genetic combinations through meiosis, (2) viable errors occurring during replication, and/or (3) mutations caused by environmental factors. [Clarification Statement: Emphasis is on using data to support arguments for the way variation occurs.]
HS-LS3-3. Apply concepts of statistics and probability to explain the variation and distribution of expressed traits in a population.
HS-LS4-2. Construct an explanation based on evidence that the process of evolution primarily results from four factors: (1) the potential for a species to increase in number, (2) the heritable genetic variation of individuals in a species due to mutation and sexual reproduction, (3) competition for limited resources, and (4) the proliferation of those organisms that are better able to survive and reproduce in the environment.
HS-LS4-3. Apply concepts of statistics and probability to support explanations that organisms with an advantageous heritable trait tend to increase in proportion to organisms lacking this trait.
HS-LS4-4. Construct an explanation based on evidence for how natural selection leads to adaptation of populations.
HS-LS4-5. Evaluate the evidence supporting claims that changes in environmental conditions may result in: (1) increases in the number of individuals of some species, (2) the emergence of new species over time, and (3) the extinction of other species.
For AP Biology Learning Objectives, Essential Knowledge, and Science Practices, see the AP Biology Extension Overview.
This material is supported by the National Science Foundation under Grant Number IOS-1558159  to Caroline Williams, Nathan Rank, Elizabeth Dahlhoff, and Jonathon Stillman. Any opinions, findings, and conclusions or recommendations expressed in this material are those of the author(s) and do not necessarily reflect the views of the National Science Foundation. Nicoline Chambers' teacher research experience was supported by the BEACON Center for the Study of Evolution (National Science Foundation grant number: DBI - 1446483), the Society for the Study of Evolution, and Wiley Publishers.
Author of standard lessons: Nikki Chambers
Author of AP Biology materials: Aaron Mathieu
Author of reading guide: Ann Cortina
Developing and piloting lab activities: Caroline Williams, Ana Lyons, Andre Szejner Sigal, Nikki Chambers, Aaron Mathieu, Ann Cortina, Kevin Roberts, Emma Isella
Project coordination: Caroline Williams
Editing and collating materials: Anna Thanukos
Web production: Trish Roque
Illustration: Helina Chin