Misinterpretations and intuitive ideas about time
---
INTUITIVE INTERPRETATION: Terminal taxa on the left-hand side of an upright phylogeny or near the bottom of a side-oriented tree evolved earlier or are older than other terminal taxa on the tree (i.e., on phylogenies, the arrow of time flies across the tips).1, 2, 3
SCIENTIFIC INTERPRETATION: On phylogenies, time is read from root to tip, not across the tips.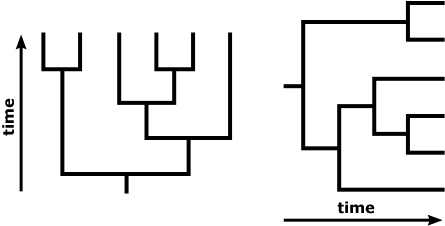 EXPLANATION: The branching pattern from the root to the tip of a tree represents the evolutionary relationships among the taxa through time; therefore, time runs from root to tip. This means that in an upright tree the direction of time runs from bottom to top. Similarly, in a phylogeny that is oriented to the side, time flows from left (root) to right (tip). The particular order of the taxa at the tips has no significance or meaning in terms of geological age or time (e.g., appearance in the fossil record, etc.).
---
INTUITIVE INTERPRETATION: Some living (i.e., extant) species have longer evolutionary histories than others (i.e., have been evolving for a longer time), and so some species are more or less "evolved" than other extant species.1
SCIENTIFIC INTERPRETATION: Since all extant species are alive today and share a common ancestor (one that lived more than 3.5 billion years ago!), all extant species have been evolving the same amount of time.
EXPLANATION: Some living organisms such as mosses and sharks represent clades that appear early in the geological record. Others (such as grasses and birds) represent clades that appear more recently. It is tempting to think of living members of a clade that appeared 160 million years ago (such as the mammals) as having a shorter history than members of a clade that appeared 440 million years ago (such as the cartilaginous fishes, sharks and rays). However, this intuition does not apply because of all living clades trace their evolutionary history back to shared ancestors among the earliest forms of life. For example, the fact that the clade that includes sharks appears early in the fossil record does not mean that modern sharks have had a longer evolutionary history than any other modern species.
1 Gregory, T.R. 2008. Understanding evolutionary trees. Evolution and Education Outreach 1:121-137.
2 Meir, E., J. Perry, J.C. Herron, and J. Kingsolver. 2007. College students' misconceptions about evolutionary trees. American Biology Teacher 69:71-76.
3 Dodick, J. 2010. Phylogeny exhibits and understanding geological time. Paper presented at the Understanding the Tree of Life, Carnegie Museum of Natural History, Pittsburgh, PA.