When not plotting an escape or inventing mind-bending puzzles, the team behind STEM Escape have day jobs: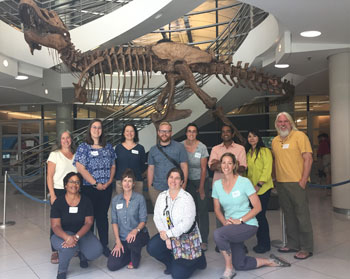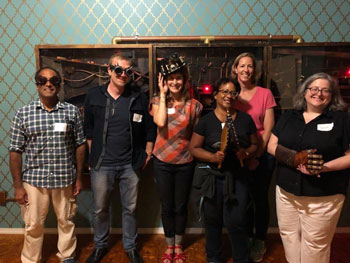 Folashade Agusto (science advisor) is Assistant Professor in the Department of Ecology & Evolutionary Biology at University of Kansas (KU). Her research is focused on the use of mathematical and statistical modeling approaches to gain insight into the ecology and epidemiology of emerging and re-emerging human and zoonotic disease of public health importance. Dr. Agusto's work includes investigating host-pathogen evolution and studying the effect of environmental variables on these interactions. Epidemiological components of her work focus on understanding the transmission mechanisms of zoonotic diseases to determine effective control strategies for these diseases, as well as designing and analyzing novel models for the dynamics of diseases such as Ebola, avian influenza, toxplasma gondii, and malaria.
Jack Baur (urban library advisor) is Berkeley Public Library's Teen Services Librarian and Cornerstones: STEM @ Berkeley Public Library liaison. He brings a wealth of experience with programming and library project-planning. He has spearheaded several system-wide programming initiatives including "The Fat Positive Summer Festival" in 2016, and shepherded Free Comic Book Day programs into an annual multi-unit event. As part of his participation in the Eureka! Leadership Institute, Jack organized the IMLS-funded Berkeley Comic Arts Festival in 2013.
Shannon Bennett (science advisor) is the Chief of Science and Harry W. and Diana V. Hind Dean of Science and Research Collections and Curator of Microbiology at California Academy of Sciences (CAS). She is responsible for the Academy's programs of scientific research and exploration, as well as overseeing the collection of nearly 46 million scientific specimens from around the world. Dr. Bennett's specialty is in zoonotic disease, where she combines advanced technologies from genomics and bioinformatics to study dengue, hantavirus, influenza, and other viruses, and also bacteria such as leptospirosis and those found in mosquito vectors.
Greta Binford (science advisor) is an Associate Professor of Biology at Lewis & Clark College. She studies diversity and evolution of spiders and their venoms to better understand patterns of diversity in spider venoms, which informs treatment of bites. Dr. Binford's current focus is on the evolutionary history of the brown recluse and its relatives and how the toxin likely originated in their common ancestor, as well as the effects of venom on insect prey.
Emma Coleman (urban library advisor) has been working with children and families in Berkeley for over 20 years.  Currently she is part of Berkeley Public Library's incredible team of Children's Services librarians and staff. She loves storytime, outreach, and collaborating on the development of equitable, diverse, and inclusive spaces at the public library. When not reading a good book or devising a new flannel board story, she can be found scanning the bay for seals, the woods for fungi, or the sky for falcons.
Brent Holman (game advisor) is one of the primary puzzle and challenge designers of Palace Games, the premier escape game venue in the San Francisco Bay area. He is also the co-founder of Shinteki, a company that creates puzzle-based events for the public and private sectors.
Teresa MacDonald (leadership team) is the Associate Director of Informal Science Education at the KU Natural History Museum and oversees the education, exhibits and outreach departments. She has investigated the use of tree graphics in ISIs and museum visitor understanding of evolutionary trees, was PI on the NSF-funded Understanding the Tree of Life, Co-PI and outreach lead for the Euteleost Tree of Life research grant, and partner on the IMLS-funded The Tree Room project.
Amy Miller (California Academy of Sciences lead) is Director of Public Programs at the CAS. She has led public programs at CAS for the past decade and was previously the Public Education Manager for the Smithsonian's National Zoo in Washington, D.C.. Amy spearheads the Academy's guest engagement program including science theater programs, specimen based inquiry activities, and hands-on science interactions. The Public Programs team of 25 staff and 375 volunteers conduct over 2.2 million engagements annually. Amy also recently led the Academy's training effort around cultural sensitivity as part of the Skin exhibit, which explores social justice issues related to race and skin color. She is also a member of the DEI Committee at the Academy and an active member of the Association of Zoos and Aquariums.
Amber O'Brien-Verhulst (rural library advisor) has spent nearly 20 years advocating for early literacy and equal access for youth as a library assistant in the Stanislaus County Library system. She works with an amazing staff in the Modesto Library Children's Department creating innovative programming for everyone at every stage of development. She has a passion for early literacy and STEAM (Science, Technology, Engineering, Art, and Mathematics) programming. As a citizen scientist she's not afraid to, as Ms. Frizzle always says, "take chances, make mistakes, and get messy!"
Melinda T. Owens (pedagogy advisor) is an incoming tenure-track Assistant Teaching Professor at the University of California, San Diego. After earning a PhD in Neuroscience from UCSF and teaching biology to diverse sets of students, she became interested in Biology Education Research and completed a postdoctoral fellowship in this area with Kimberly Tanner at San Francisco State University. Her research focuses on active learning (pedagogical approaches beyond traditional lecture). She is also an amateur puzzle and escape room enthusiast who has put on several puzzle hunts for the community.
Satish Pillai (science advisor) is an Associate Investigator at Blood Systems Research Institute, and an Associate Professor of Laboratory Medicine at University of California San Francisco (UCSF). He serves as an Associate Director of the UCSF Center for AIDS Research, member of the UCSF AIDS Research Institute Executive Committee, and member of the amfAR Institute for HIV Cure Research Board of Directors. His research over the last 15 years has focused on the evolution, pathogenesis, and persistence of HIV in vivo, utilizing a systems biology approach.
Elda Sanchez (science advisor) is the Director of the National Natural Toxins Research Center at Texas A&M University, an internationally renowned biomedical research center concentrating on the discovery of snake venoms that can be used in medical applications. Its over 40 years of work is dedicated understanding of the therapeutic value of venom molecules such as the treatment of strokes, heart attacks, cancers, and venom neutralization. Dr. Sanchez conducts research on snake venoms as well as animals that have resistance to these venoms including how an understanding of evolutionary relationships among snakes and the evolution of venom can help us create new medications and better antivenoms.
Anna Thanukos (leadership team) is Principal Editor at the UC Museum of Paleontology (UCMP). Her work includes the Understanding Evolution, Understanding Science, and The Tree Room projects. She is also a former City University of New York biology professor and teacher professional development educator, with a focus on evolution education. Her research has focused on evolution education and public understanding of the nature and process of science.
Vanessa Vega, Claire Quimby, and Alex Gurn (evaluation Co-PIs) are research associates at Rockman Et Al. Vanessa holds a Ph.D. in Communication Theory and Research from Stanford University. Claire holds MAs in Museum Studies and Anthropology from Indiana University. Alex earned a Ph.D. in Curriculum & Instruction from Boston College, where he studied educational change, literacy development, and critical theory. Their evaluation work has included research in both formal and informal learning environments for a wide range of projects, including studies with rural communities, museum programs focused on STEM education, and concept-testing of an escape room exhibit for the Museum of Science, Boston.
Lisa D. White (PI) is Director of Education and Outreach at UCMP. She came to this position after a 22-year career at San Francisco State University where she held positions of Associate Dean of the College of Science and Engineering, Associate Dean of the Graduate Division, Professor of Geosciences, and Geosciences Department Chair. Dr. White is a Fellow of the California Academy of Sciences and the Geological Society of America (GSA), and in 2008 she was the inaugural recipient of the GSA Bromery Award for Minorities, an honor bestowed upon a geoscientist who has been instrumental in opening the geoscience field to other minorities. She directed the programs SF-ROCKS (Reaching Out to Communities and Kids with Science in San Francisco), METALS (Minority Education through Traveling and Learning in the Science), Climate Change Scholars, and Project Engage, as well as the evolution-oriented, IMLS-funded The Tree Room project.
Acknowledgements: We'd like to thank Dan Egnor, Kirill Shklovsky, Michael Seidel, and Michel Dedeo for sharing their expertise and skills, and our brave early playtesters, Yossi and Amir Fendel, Alexander Kilimnik, volunteer families from Stanislaus County Public Library, the lego kids at Tarea Hall Pittman South Branch, and the after school kids at North Branch, Berkeley Public Library.