The data we've seen help explain the LDG, but they also inspire new questions. For example, we know that higher rates of speciation may play a role in generating the LDG — but what causes those higher speciation rates? Latitude alone can't explain it. After all, latitude is just a number that we humans have assigned to regions of Earth. There must be some set of environmental, biological, or evolutionary factors at work in the tropics that cause increased speciation rates there, or some other factors that cause decreased speciation elsewhere.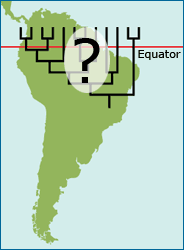 We can ask similar questions about the underlying cause of the speciation and migration patterns we studied. Why are tropical species protected from extinction? Is there some special characteristic of tropical species or tropical environments that allows or encourages these species to spread out of the tropics?
Scientists have come up with many hypotheses that might help answer these questions — and so can you! Work with your class or other students to answer this last question.
Question 13
Pick one of the following evolutionary patterns:
high tropical speciation rate
low tropical extinction rate
high rate of species spreading out of the tropics and into other regions.
A. Based on your knowledge of tropical and non-tropical regions and your understanding of evolution, come up with a hypothesis that helps explain the pattern. Feel free to look up information online, in the library, or in your textbook to help you come up with this hypothesis.
Hint 1: Try writing your hypothesis in this form: The tropics have a high speciation rate (or low extinction rate or high rate of spreading) because …
B. How could you begin to test this hypothesis?
Hint 2: To figure out how to test your hypothesis, fill in the blank: If this hypothesis were true, then I would expect to observe ______. The expected observation might be the result of an experiment, a pattern in fossil data, or a pattern in the distribution of modern organisms on Earth. Ask yourself what a graph that supports this hypothesis would look like. The important part is thinking carefully about your hypothesis and figuring out what sorts of observable outcomes are likely to result from that mechanism.