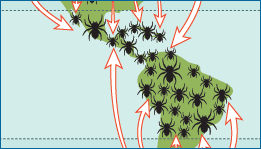 Do species tend to move into the tropics from other locations? If so, it would help explain the LDG. Paleontologists would love to know the answer to this question. Unfortunately, they haven't yet been able to figure it out. The problem is that the fossil record can be a bit biased. Here's why:
First, fossilization is more likely in some environments than others — and tropical ecosystems often leave behind a poor fossil record.
Second, scientists have spent a lot more time collecting fossils from non-tropical ecosystems than from tropical ones — not because they were intentionally biased, but because the non-tropical fossils are easier for many paleontologists to get to and find.
All of this means that we have a much better fossil record of temperate organisms than of tropical ones.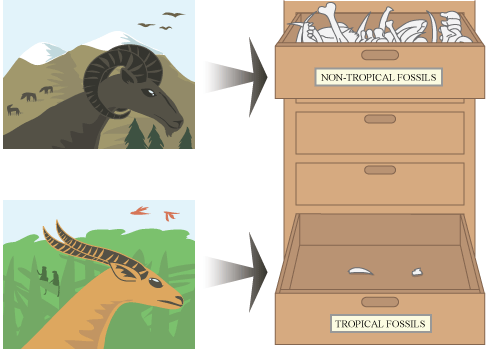 Studying life's history would be lots easier if we could just ignore this potential bias — but that's not how science operates. Science aims to build our knowledge of how the world really works, and that means that we have to eliminate biases or take potential biases into consideration when testing our hypotheses. Scientists try to take unavoidable biases into account by figuring out how they are likely to affect the outcomes of their tests.
You can try this for yourself. Imagine that you are interested in a particular clam species. You want to know if it first evolved somewhere else and then moved into the tropics, where it now lives. You study its fossil record and find that its oldest known fossil is from non-tropical rocks. Does this mean that the species first evolved in a non-tropical region and then moved into the tropics? Maybe — but maybe not. Remember that we are dealing with a bias that makes us less likely to find fossils from tropical rocks. It's possible that the clam actually evolved in a tropical region, but we don't know it because the clam didn't get fossilized in that environment or we haven't yet found the older tropical fossil.
The anti-tropical bias makes it very difficult for us to know for sure that an organism first evolved outside of the tropics and only later moved into the tropics. And that means that we can't fairly evaluate the destination hypothesis; we just don't have the sort of data we'd need to test it. This is not uncommon in science, but luckily, as scientists keep working on the problem, they often come up with different ways to test an idea.
Find out how the anti-tropical bias in the fossil record might have affected our evaluation of the cradle hypothesis in Bias and the cradle hypothesis.