Found 2 resources for the concept:
Continuous characters are generally influenced by many different genes.
Grade Level(s):
Source:
Smithsonian National Museum of Natural History
Resource type:
Time: Seven to ten 50 minute class periods
Overview
Students examine evidence for the relationship between UV and melanin in other animals; investigate the genetic basis for constitutive skin color humans; learn to test for natural selection in mouse fur color; investigate how interactions between UV and skin color in humans can affect fitness; and explore data on migrations and gene frequency to show convergent evolution of skin color.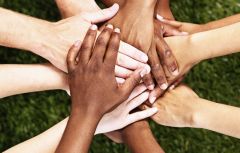 Grade Level(s):
Source:
Resource type:
Time: One to two class periods
Overview
This case study in the form of a set of PowerPoint slides examines the evolution of light fur in beach mice from the molecular level up to the population genetics level.