The previously unknown SARS virus generated widespread panic in 2002 and 2003 when the airborne germ caused 774 deaths and more than 8000 cases of illness. But where did this mystery virus come from? Scientists immediately suspected that it had jumped to humans from some other organism. In May of 2003, attention focused in on cat-like mammals called civets. Infected civets were discovered at a live animal market in southern China (where they are occasionally eaten). However, since further searches failed to turn up more tainted civets, scientists concluded that they were not the original source of SARS and continued their quest. Then in the fall of 2005, two teams of researchers independently discovered large reservoirs of a SARS-like virus in Chinese horseshoe bats. The bats now appear to be both culprit and victim in this mystery: they are the carriers of the SARS virus, but the virus is probably only passed to humans through intermediate hosts when bats are captured and brought to market.
| | | |
| --- | --- | --- |
| A civet. Photo provided by MCPA2. | | |
Where's the evolution?
How exactly did biologists conclude that bats, and not civets, were the original source of the SARS virus? Figuring out the answer required reconstructing the evolutionary history of the virus.
Viruses evolve rapidly and constantly, changing within a lineage and splitting off to form new lineages. As they evolve, they accumulate small changes in the sequences of their genomes. Based on these genetic differences, biologists can reconstruct the evolutionary relationships of different viral strains, building an evolutionary tree that reveals which strains evolved from which strains and in what order they evolved.
In this case, biologists collected samples of the SARS virus's genetic material, RNA, from different sources: infected humans, infected civets, and different species of infected horseshoe bat. The RNA was then copied, sequenced, and used to build a phylogeny, or evolutionary tree.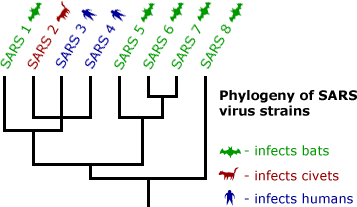 The tree showed that civet and human SARS viruses are very similar to each other and, most importantly, that both are nested within a clade of bat viruses — so the ancestor of the civet and human strains seems to have been a bat virus! Based on this evidence, biologists have come up with a plausible path of transmission: infected bats and uninfected civets came into contact at a market, the virus was transmitted to civets and then multiplied and evolved in civets (or other animals) in the public market, until eventually the virus hopped to humans.
Interestingly, viruses seem to frequently make the jump from bats to human hosts. Bats appear to be the natural reservoirs for many human viruses, including the Ebola, Hendra, and Nipah viruses — and now we can add SARS to that list. But what is it about bats that makes them such a common source of viruses? Well, biologists aren't sure, but it might have something to do with their tendency to roost tightly packed in caves with other bat species. This situation might encourage the transmission of viruses between individuals and species and provide opportunities for viruses to evolve and recombine with each other — much as biologists fear the avian flu will recombine with a human flu virus and evolve into a deadly, epidemic-causing strain.
Knowing that human SARS ultimately evolved from a bat virus can help us better understand emerging diseases and find ways to prevent future outbreaks. Certainly, we must limit contact between bats and humans and bats and other animals. However, such viruses have existed in wild animal populations for a long time — why are they suddenly evolving to infect human hosts? The answer probably has to do with changes in human behavior: expanding human populations encroach on the territory of wild animals; markets, farms, and ranches often bring different species together in conditions that facilitate pathogen spread; and increased travel and trade between tropical regions and other areas of the world carry pathogens to new environments. Understanding these paths of transmission may help us prevent future outbreaks of diseases such as HIV, SARS, and West Nile virus — all of which have made the leap from wild animals to human hosts.
News update, July 2013
Since September 2012, a mysterious respiratory infection has been spreading through hospitals in Saudi Arabia and has popped up in nearby countries. MERS (Middle East Respiratory Syndrome) is a coronavirus, like SARS, and has health workers thinking about the devastating effects of that outbreak. So far the new virus, which can cause severe pneumonia and kidney failure, has infected 64 people and killed 38. Some cases are unexplained, but many were contracted from other infected people in the hospital. The ease with which the virus spreads from person to person suggests that it has the potential to trigger an epidemic.
Health workers and infectious disease experts have been watching MERS carefully, hoping to isolate infected patients and contain outbreaks before they get started. However, in order to completely stamp out the virus and prevent new infections from the viral reservoir, we'd need to know where MERS came from in the first place. As with SARS, researchers turned to phylogenetics to answer this question. They sequenced part of a critical gene in the MERS genome, compared this with the corresponding sequence in other coronaviruses, and used the data to construct a tree showing how all the viruses are related. Once again, bats may be to blame. MERS forms a tight knit clade with several coronaviruses native to bats. Some scientists suspect that people may have first been infected with MERS by eating dates that bats had contaminated. However, that is far from certain. Researchers have taken samples from more than 200 animals (including bats and other potential suspects such as cats and camels) but have not turned up any viruses that precisely match the MERS virus. More research will be needed to confirm if bats are the original source of MERS. Stay tuned for further updates!
Primary literature:
Lau, S.K., Woo, P.C., Li, K.S., Huang, Y., Tsoi, H.W., Wong, B.H., Wong, S.S., Leung, S.Y., Chan, K.H., and Yuen, K.Y. (2005). Severe acute respiratory syndrome coronavirus-like virus in Chinese horseshoe bats. Proceedings of the National Academy of Sciences USA 102(39):14040-14045. Read it »
Li, W., Shi, Z., Yu, M., Ren, W., Smith, C., Epstein, J.H., Wang, H., Crameri, G., Hu, Z., Zhang, H., Zhang, J., McEachern, J., Field, H., Daszak, P., Eaton, B.T., Zhang, S., and Wang, L.F. (2005). Bats are natural reservoirs of SARS-like coronaviruses. Science 310(5748):676-679. Read it »
News articles:
Understanding Evolution resources:
What do evolutionary trees represent?
What did the phylogeny of SARS virus strains indicate to researchers?
What evidence did researchers use to build the phylogeny of SARS virus strains? List two other types of evidence that could be used to build an evolutionary tree.
Read the short article Evolution and the avian flu. Using the concepts of viral evolution introduced in that article, explain some possible ways that bat SARS could become adapted to human hosts.
Research another case of an infectious disease that has evolved from a strain originally infecting a wild animal population (e.g., HIV). Explain how that disease made the jump to humans and how that "host switch" is similar to and different from the emergence of SARS.
Teach the basics of phylogenetics. In this web-based module for grades 6-12, students are introduced to cladistics, which organizes living things by common ancestry and evolutionary relationships.
Teach about how phylogenies are built. This classroom activity for grades 9-12 introduces how cladograms are built using anatomical characters and shows how shared derived characters can be used to reveal degrees of relationship.
Teach about using molecular data to infer evolutionary relationships. In this classroom activity for grades 9-12, students formulate explanations and models that simulate structural and biochemical data as they investigate the misconception that humans evolved from apes.
Assiri, A., McGreer, A., Perl, T. M., Price, C. S., Al Rabeeah, A. A., Cummings, D. A. T., ... Memish, Z. A. (2013). Hospital outbreak of Middle East Respiratory Syndrome coronavirus. The New England Journal of Medicine. DOI: 10.1056/NEJMoa1306742
Grady, D. (June 19, 2013). Fast-spreading virus under inquiry in Saudi Arabia. The New York Times. Retrieved June 20, 2013 from The New York Times
Lau, S.K., Woo, P.C., Li, K.S., Huang, Y., Tsoi, H.W., Wong, B.H., Wong, S.S., Leung, S.Y., Chan, K.H., and Yuen, K.Y. (2005). Severe acute respiratory syndrome coronavirus-like virus in Chinese horseshoe bats. Proceedings of the National Academy of Sciences USA 102(39):14040-14045.
Li, W., Shi, Z., Yu, M., Ren, W., Smith, C., Epstein, J.H., Wang, H., Crameri, G., Hu, Z., Zhang, H., Zhang, J., McEachern, J., Field, H., Daszak, P., Eaton, B.T., Zhang, S., and Wang, L.F. (2005). Bats are natural reservoirs of SARS-like coronaviruses. Science 310(5748):676-679.
Normile, Dennis. (2005). Researchers tie deadly SARS virus to bats. Science 309:2154-2155.
The usual suspects. (2005, November 17). The Economist. Retrieved December 19, 2005 from The Economist.
Zaki, A. M, van Boheeman, S., Bestebroer, T. M, Osterhaus, A. D. M. E., and Fouchier, R. A. M. (2012). Isolation of a novel coronavirus from a man with pneumonia in Saudi Arabia. The New England Journal of Medicine. 367: 1814-1820.