Image Caption
Despite their similarities, the unusual length of these teeth is NOT homologous. One skull belongs to Thylacosmilus, a marsupial mammal. The other belongs to Smilodon, the saber-toothed cat, which is a placental mammal. Marsupial and placental mammals are very different, and diverged from each other a long time ago on the evolutionary tree. Thylacosmilus is more closely related to other marsupials such as kangaroos and koalas than it is to Smilodon. Smilodon is more closely related to other placentals such as housecats and elephants than it is to Thylacosmilus. Saberteeth is not a common trait in the marsupials closely related to Thylacosmilus, or the placentals closely related to Smilodon.
Image use policy: For non-commercial, educational purposes, this image may be used with a Creative Commons CC BY-NC-SA 4.0 license. Please credit as follows: © University of California Museum of Paleontology, Understanding Evolution, www.understandingevolution.org
See where this image appears on the Understanding Evolution website »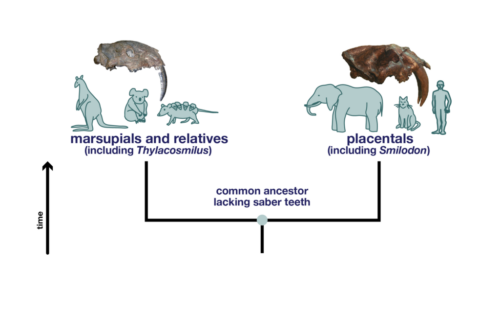 To save: 1) Click on image for the full-size version, 2) right-click (Windows) or control-click (Mac) on the image, and 3) select "Save image."
This image is part of a series: