Grade Level(s):
Source:
UC Museum of Paleontology
Resource type:
Time: 15 minutes
Overview
La próxima vez que estés en la cocina, prueba este experimento: toma una caja de manteca en una mano y una caja de galletas saladas en tu otra mano. ¿Cuál es más pesada? Si dijiste la manteca, no estás solo. La mayoría de las personas identifica la caja de manteca como el objeto mas pesado — a pesar de que si miras la etiqueta ¡verás que ambas pesan exactamente una libra! ¿Por qué ocurre esto?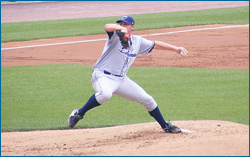 [Mechanisms of evolution: Grades 13-16]

Traits that confer an advantage may persist in the population and are called adaptations.
There are no NGSS/DCI concepts currently linked to this resource.
This article includes a set of discussion and extension questions for use in class, as well as advanced discussion questions for undergraduates. It also includes hints about related lessons that might be used in conjunction with this one. Get more tips for using Evo in the News articles in your classroom.