Grade Level(s):
Source:
UC Museum of Paleontology
Resource type:
Time: 5 minutes
Overview
This short slide set describes how many characteristics of mitochondria and plastids are explained by their endosymbiotic origins. Save the slide set to your computer to view the explanation and notes that go along with each slide.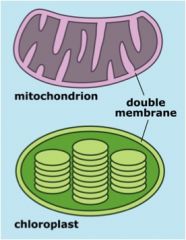 [History of life: Grades 13-16]

Present-day species evolved from earlier species; the relatedness of organisms is the result of common ancestry.

[History of life: Grades 13-16]

Through billions of years of evolution, life forms have continued to diversify in a branching pattern, from single-celled ancestors to the diversity of life on Earth today.

[History of life: Grades 13-16]

The early evolutionary process of eukaryotes included the merging of prokaryote cells.

[Evidence of evolution: Grades 13-16]

An organism's features reflect its evolutionary history.
There are no NGSS/DCI concepts currently linked to this resource.