Image Caption
This evolutionary tree shows the relationships between different tetrapod lineages, all of which evolved from a single common ancestor. This 350 million year old animal, the first tetrapod, had limbs with one long bone (the humerus) attached to two other long bones (the radius and ulna). Its descendants, including whales, lizards, humans, and birds, as well as many others, inherited the tetrapod limb from this ancestor.
Image use policy: For non-commercial, educational purposes, this image may be used with a Creative Commons CC BY-NC-SA 4.0 license. Please credit as follows: © University of California Museum of Paleontology, Understanding Evolution, www.understandingevolution.org
See where this image appears on the Understanding Evolution website »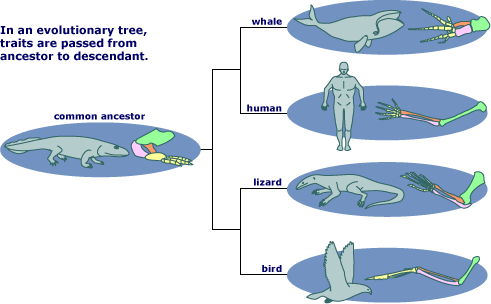 To save: 1) Click on image for the full-size version, 2) right-click (Windows) or control-click (Mac) on the image, and 3) select "Save image."
This image is part of a series: