Grade Level(s):
Source:
UC Museum of Paleontology
Resource type:
Time: 2 minutes
Overview
This set of five PowerPoint slides featuring personal response questions (i.e., multiple choice questions that can be used with "clicker" technology) can be incorporated into lectures on the mechanisms of evolution in order to actively engage students in thinking about evolution.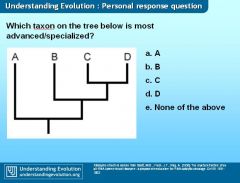 [Mechanisms of evolution: Grades 13-16]

Evolution does not consist of progress in any particular direction.

[Studying evolution: Grades 13-16]

Evolutionary trees (i.e., phylogenies or cladograms) portray hypotheses about evolutionary relationships.
There are no NGSS/DCI concepts currently linked to this resource.
With increased experience, the instructor will be able to develop new personal response questions, optimizing them for particular applications and topics. To learn more about how personal response questions and other types of active learning activities can be easily incorporated into lecture (and for more downloadable slides!), visit our guide to active learning in the undergraduate classroom.