Grade Level(s):
Source:
Resource type:
Time: 15 minutes
Overview
Students build a phylogenetic tree from pipe cleaners that allows them to rotate branches, compare topologies, map complete lineages, identify informative phylogenetic features, and examine the effects of superficial structural changes on the tree.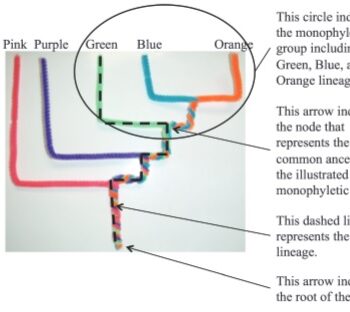 [History of life: Grades 6-8]

Present-day life forms are descended from past life forms; all life is related. (LS4.A)

[Studying evolution: Grades 6-8]

Evolutionary relationships may be represented by branching trees (i.e. phylogenies or cladograms).
Disciplinary Core Idea LS4.A: Evidence of Common Ancestry and Diversity
This is not a complete lesson in itself, but presents a useful manipulative tool to supplement other lessons on phylogenetics and allow students to build their tree-thinking skills.
This resource currently lacks an associated teaching background.