Water striders have to deal with a serious problem introduced by molting: cannibalism. These common insects skate on the surface of streams and ponds capturing prey. But when it comes time to molt, they become immobile for a little under 10 minutes, while they pull themselves out of the old exoskeleton. In those 10 risky minutes, molting water striders are completely vulnerable to being caught and eaten by another water strider. In a laboratory experiment, almost half of the molting insects fell victim to cannibalism.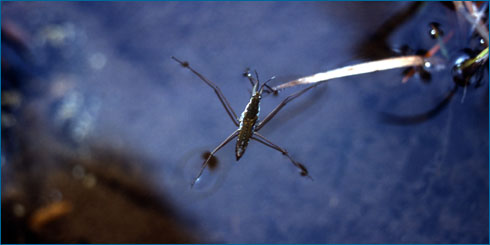 Researchers have found that the longer it takes a water strider to molt, the greater its risk of being turned into someone else's lunch. That means that we'd expect natural selection to act to shorten molting times if possible. For example, if a water strider were born with genes that let it molt in just 7 minutes, we'd expect it to be more likely to survive than other insects that took 8 or 9 minutes to molt. The 7-minute molter would survive to reproduce and, in turn, have offspring with shorter molting times. Over the course of many generations, we'd expect genes for short molting times to spread through the population.
But natural selection is not acting alone — scientists have discovered that there is another factor at work here: sexual selection. Male water striders have some difficulty persuading females to mate. Females avoid the males and turn backwards somersaults to dislodge amorous males.
However, males have a handy set of prongs on the underside of their abdomens called abdominal processes, that help them hold on to a female for long enough to mate. Males with longer abdominal processes are better at successfully mating. That means that, over many generations, we'd expect sexual selection to increase the length of these abdominal processes.
Sexual selection does not have full reign, however. Researchers have discovered a catch-22 in water-strider evolution: the longer the abdominal processes, the better a male is at getting a girl and mating with her — but the longer the abdominal processes, the longer it takes to molt and the more likely he is to wind up the victim of cannibalism! In this system, natural selection and sexual selection act in opposition to each other — which means that water striders do not evolve either the "best" molt time or the "best" abdominal process length.