Science asks not only "what happened?" but also "what caused it to happen?" Upon observing an evolutionary trend, such as a particular lineage increasing in size, a scientist would naturally ask, "What's going on here?" There are many possible explanations.
Hindsight
If we looked at the fossil record for the lineage leading to modern horses, we would see a trend towards increased size. Horse evolution is often depicted as a steady trend, as shown below.
However, when we take note of all the related horse lineages (including extinct lineages), this "trend" begins to blur. Some horse lineages got bigger, some got smaller, some went back and forth. The commonly depicted trend toward increased size is not a general trend at all, but rather it is the result of people limiting their hindsight to the lineage of modern horses.
Functional or physical boundaries
If a lineage starts its evolution close to a limit (such as in size or complexity), we inevitably observe the trend of lineages moving away from that limit.
For example, several times during their evolutionary history, foraminiferans have been decimated by extinctions, leaving only a few, small-sized lineages as survivors. These lineages diversified into daughter lineages, most of which were larger than their parent lineage. They definitely experienced a trend towards a bigger average body size, but the trend may have been based on the fact that foraminiferans cannot get any smaller than they started out. They had nowhere to go but up!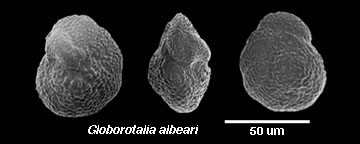 Irreversibility
Some evolutionary changes may only be able to go in one direction, like a ratchet. For example, once an animal lineage emerges from the water and evolves the ability to breathe air, it seems to be very difficult for that lineage to revert to extracting oxygen from water. Several lineages have made the switch to air-breathing — the ancestors of terrestrial vertebrates, the ancestors of insects, and the ancestors of spiders, for example. However, no vertebrate, insect, or spider lineage has regained the ability to extract oxygen from water. Even though a few lineages have returned to leading aquatic lifestyles, these lineages still extract oxygen from air. This evolutionary ratchet produces a trend of more changes to air-breathing than away from it; once you've gone there, you can't go back.
Natural selection
Natural selection can cause evolutionary changes in a lineage to be biased in a particular direction. Consider ammonites, a clade of extinct mollusks with intricate, many-chambered shells (much like their relative, the nautilus). As new ammonite lineages evolved, the way that these chambers fit together became increasingly complex. Evolutionary change in the direction of increasing complexity was consistent and may have been caused by natural selection which favored greater shell strength.
Species selection
If a character causes a lineage to speciate more frequently, or go extinct less frequently, there will be a bias towards lineages that have that character. For example, some marine snail lineages exhibit an evolutionary trend: as time goes by, we see more and more lineages with direct development (meaning they do not go through a stage where their larvae swim around freely). Why might this be? If a lineage has direct development, its larvae don't disperse very far—they stick close to home and are isolated from other populations. That means that if some directly-developing individuals somehow ended up in a new place, they probably would not get to reproduce with their parent population. In other words, having direct development might cause the lineage to get chopped up into isolated sub-groups—which might become reproductively isolated from one another. If direct development is indeed linked to increased speciation rates, over time, we'd expect to see more and more lineages with direct development: a trend!
Rejected explanations
Several explanations for trends have been rejected by scientists who have found no (or very little) evidence suggesting that these processes actually happen:
Internal drive towards complexity: All of the evidence we have so far is consistent with evolution resulting from the undirected interaction of organism with environment. There is no evidence to support a hypothesis of any sort of "internal force" governing evolutionary change and no evidence to support it.
Directional mutation: Mutation does not occur with a directed goal. Since mutation is random, it cannot explain trends.