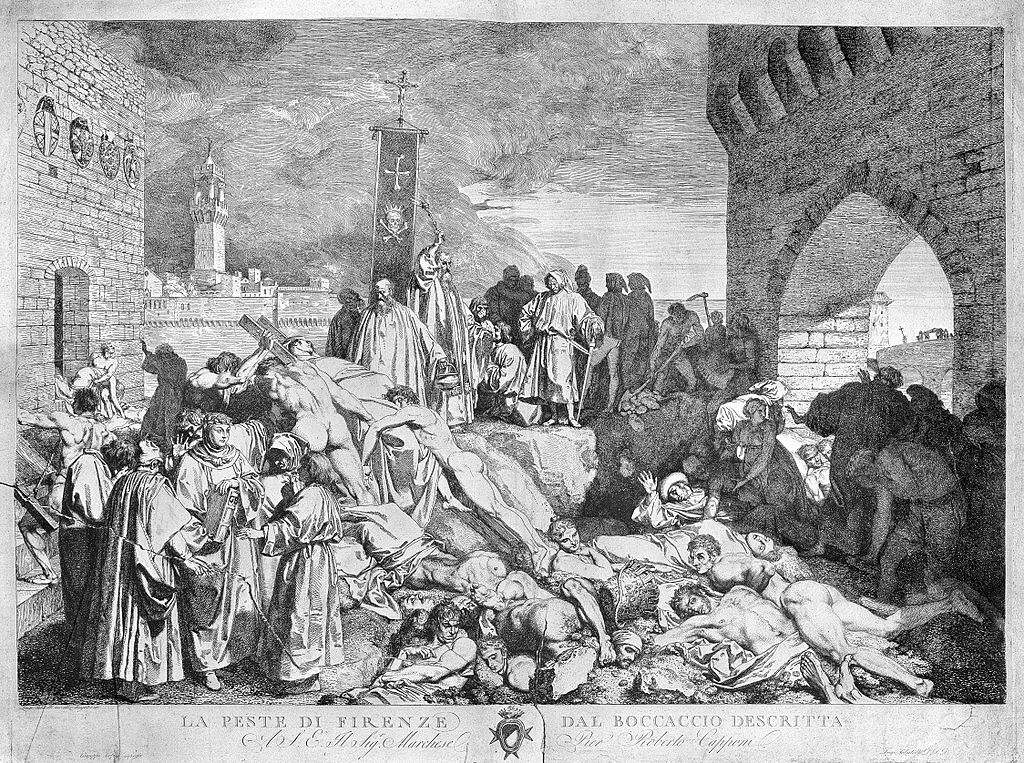 Bubonic plague and ancient DNA are having a media moment.  Evo in the News most recently covered a search for DNA from the plague bacterium, Yersinia pestis, in graves from the 1300s. Last month, we celebrated Svante Pääbo's Nobel prize for his work on ancient DNA. And this month, we dig into another investigation that excavated DNA from the time of the Black Death, a particularly deadly plague outbreak, to illuminate how that epidemic shaped the course of human evolution.
Where's the evolution?
Microevolution is often defined as a change in the frequency of gene versions, also called alleles, from one generation to the next. In one generation, 2% of the alleles in a population code for a version of a protein with an unusual twist in it, and then 20 generations later, 12% of the alleles code for the twisted protein. That is evolution in a nutshell.
It's easy to see how natural selection could cause such evolution. Imagine, for example, that the twisted protein helps people survive a spreading infection. Young people who carry the allele for the twisted protein are more likely to survive the epidemic and go on to have children – who are themselves likely to inherit the "twisted allele" from their parents. Over generations, the twisted allele will tend to increase in frequency, so long as the infection is causing early deaths among those without the twisted protein.
In human societies, lethal and transmissible diseases are a powerful force of natural selection, favoring gene versions that improve one's odds of surviving to have children and decreasing the frequency of others. The more harmful and more widespread the disease, the stronger the selection favoring protective or resistant alleles. Over recorded human history, the Black Death stands out as a likely trigger for human evolution. This epidemic killed perhaps as much as 60% of the population of Western Europe and Asia in less than 10 years during the 1300s.
Studying past episodes of intense natural selection, like the Black Death, has posed a challenge for biologists. How can we reconstruct the changing genetic profile of a population when all of that change happened hundreds of years ago? Scientists have tried to get at this question by comparing the genetic makeup of different modern populations, some of which experienced the past selection and some of which did not. They've also looked at modern genomes for evidence that a particular gene sequence increased in frequency quickly, bringing nearby alleles with it. Now, improvements in our ability to extract and reconstruct the sequence of ancient DNA offers an exciting opportunity to look directly at the genetics of a population before, during, and after a historical event – at least in some cases. That's the approach that an international team of researchers recently applied to studying human evolution during the Black Death.
The team extracted DNA from human remains in ancient cemeteries in London and Denmark. They were able to get DNA from 360 people who had died between the years 1000 and 1600 AD, enough samples to get a picture of how allele frequencies were changing in the population over those years. The researchers focused their investigation on areas of the genome relating to the immune system and immune disorders, reasoning that the immune system's key role in defending the body against bacteria would make these stretches of DNA likely candidates for natural selection by the plague. They searched for cases in which an allele increased or decreased in frequency much more extremely than alleles thought to have no impact on human health. Four stood out: in three regions, one variant rose to high frequency rapidly, and in one region, an allele became much rarer over the course of the pandemic.

The rapid and substantial change in the four genetic variants matched the pattern we'd expect to see in genes shaped by natural selection through the bubonic plague. But of course, it's possible that some selective force other than Y. pestis caused the observed change. To investigate the link between these genetic regions and plague specifically, the biologists performed lab experiments that showed that these four stretches of DNA are involved in immune cells' responses to infection with the plague bacterium.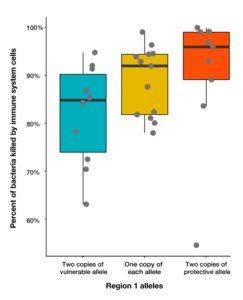 The evidence for one of these regions (that shown in figure 1a above) was particularly convincing. For one study, volunteers with different alleles in this region donated a particular type of immune cell, one that engulfs and kills invading pathogens. Humans usually have two copies of each gene (one copy inherited from each parent), so some of the donors had two copies of the allele that seemed to be favored by natural selection, some had one protective allele and one vulnerable allele, and some had two copies of the vulnerable allele. The researchers exposed these donated immune system cells to the plague bacterium and then measured the cells' ability to kill the bacteria. As expected, cells from people with two copies of the allele that rose to high frequency during the Black Death were noticeably better at killing plague bacteria than cells from people with one or zero copies of that allele, as shown in Figure 2.
The combined facts that this allele rose to high frequency during a plague outbreak and that it seems to boost the immune response to plague make a strong case for the hypothesis that the Black Death caused this evolutionary change. Based on how quickly its allele frequency changed, the researchers estimate that having two copies of the protective allele boosted people's survival odds during the Black Death by 40% compared to those carrying two copies of the vulnerable allele.
The results illustrate a new way to examine the effects of ancient episodes of natural selection – by looking directly at the genetic changes in the population that were happening at the time. They also show how the evolutionary legacy of these past pandemics can affect human health today. Two of the genetic regions the researchers identified are implicated in susceptibility to diseases like Crohn's disease and rheumatoid arthritis, in which the immune system attacks a part of one's own body. If the researchers' hypotheses are correct, then alleles that were favored during the Black Death because they helped our immune system defend us against a deadly pathogen could be the cause of human disease today, perhaps because they make one's immune system too sensitive. Understanding how disease has shaped human evolution in the past has important implications for improving human health today.
Primary literature:
Klunk, J., Vilgalys, T.P., Demeure, C.E., Cheng, X, Shiratori, M., Madej, J., … and Barreiro, L. B. (2022). Evolution of immune genes is associated with the Black Death. Nature. 611: 312–319 (2022). Read it »
News articles:
Understanding Evolution resources:
In your own words, explain what microevolution is.
Review some background information on natural selection. Explain how a mutation that improves one's odds of surviving a bubonic plague infection would spread through a human population during a plague epidemic. Make sure to include the concepts of variation, selection, and inheritance in your explanation.
Advanced: Now imagine that the plague only kills people in their 60s and older, past their prime reproductive years. How and why would you expect this to affect the process you described in question 2 above?
Today, bubonic plague is treatable with antibiotics and we are better able to detect and suppress plague outbreaks. Would you expect the alleles identified in the study above to be spreading through natural selection today? Explain your reasoning.
Advanced: Do some research on Crohn's disease and rheumatoid arthritis, focusing on who is likely to have these disorders, how common they are, and how they affect reproductive health. Imagine that the alleles identified above do increase one's risk of developing one of these autoimmune disorders. Do you think that the alleles identified above are likely to be undergoing natural selection among human populations based on their role in autoimmune disease? If so, in which direction? Explain your reasoning.
Evo in the News has covered many other investigations of ancient episodes of natural selection in human populations. College students can review, and then compare and contrast, the approaches taken by these studies to illuminate both how evolutionary biologists study the past and how this has changed as our technical abilities have grown:
Klunk, J., Vilgalys, T.P., Demeure, C.E., Cheng, X, Shiratori, M., Madej, J., … and Barreiro, L. B. (2022). Evolution of immune genes is associated with the Black Death. 611: 312–319 (2022).