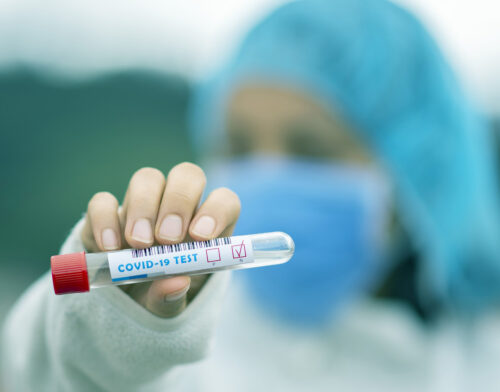 Over the past month, the SARS-CoV-2 Omicron strain has dominated world news. This fast-spreading coronavirus variant has led to travel restrictions, cancelled holiday plans, sold-out test kits, reimposed lockdowns, and of course, a staggering number of new COVID-19 cases. Scientists quickly pivoted to study Omicron, trying to learn how easily it spreads, how sick it makes us, and whether it resists our treatments, vaccines, and antibodies from previous COVID infections. We need to revisit all these questions because Omicron is very different from other coronavirus strains. Omicron has accumulated more than 50 new mutations in comparison to the strain that started the pandemic. Furthermore, Omicron is not descended from the Delta strain, which was responsible for the previous wave of infections.  In fact, Omicron is so different from other variants that it seems like it's been evolving on its own for many months. And that leads us to another mystery that scientists are puzzling over: where has Omicron been hiding while all this evolution was occurring?
Where's the evolution?
This phylogeny shows how distantly related Omicron (represented by orange and red dots) is to Delta (turquoise and light blue dots).  The data suggest that Omicron has been accumulating the mutations that make it unique for almost a year. With the whole world trying to keep tabs on COVID, why didn't we notice more Omicron-ancestors over the last year as the virus evolved into its current form – especially if some of its mutations allowed it to spread more easily?  Here we'll outline the various hypotheses that might explain where all that evolution was hiding.
One possibility is that Omicron simply evolved faster than other strains – that is, it appeared to suddenly arrive on the scene out of nowhere because it actually did evolve suddenly. In this scenario, the culprit would be an experimental drug (molnupiravir) that fights COVID-19 by causing the virus to mutate so much that it cannot function. This medicine was tested in South Africa before Omicron was identified. Perhaps, the reasoning goes, a highly mutated Omicron virus arose quickly from these drug trials; however, we have no direct evidence that this actually occurred.
Most of the potential explanations for Omicron's sudden arrival on the world stage don't rely on turbo-charged mutation.  For example, the new strain could have evolved slowly over the course of a year as it spread through a population in which COVID strains were not being monitored. However, some scientists argue this is unlikely because Omicron is so infectious that it seems like its ancestral strain would have spread to somewhere that we were monitoring.
Other scientists have hypothesized that the ancestor of Omicron infected a non-human animal, like a rodent, and evolved into Omicron as it spread through that non-human population. Then it switched back to humans, starting the tidal wave of infections we now face. This hypothesis is appealing because we already know that SARS-CoV-2 can easily switch host species. The virus first jumped to humans from another animal, though the details of that switch are still not established.  And we know that cats, dogs, minks, ferrets, deer, and many other species have caught the virus from humans.  In at least some of these cases, scientists have found that the virus can spread quickly through these non-human animal populations, just as it does through humans.
Another leading hypothesis is that Omicron evolved, not as it spread from animal to animal or person to person (in which case, we'd expect to have detected it sooner than we did), but within one person. A virus can only evolve when it is replicating – that is, when its genetic material is copied and mistakes (i.e., new mutations) slip in. But, in most people with COVID-19, the immune system kicks in and stops viral replication relatively quickly. That means that we'll mainly see viral evolution as the virus spreads from host to host, going through many rounds of replication and suppression.  However, when SARS-CoV-2 infects a person whose immune system doesn't work effectively (e.g., because of a bout with cancer or untreated HIV), it can cause a long-term infection, in which the virus replicates for many months. During this time, the viral population in the person's body experiences natural selection adapting it to the defenses of the host's immune system and any treatments they may be getting. Scientists have observed this process in action in several cases in which people with compromised immune systems were infected with SARS-CoV-2, so we know that the virus can accumulate many mutations this way. Perhaps, the argument goes, we didn't notice Omicron as it evolved because most of that evolution occurred within a single person, not as the virus spread through a large population.
The solution to this mystery is still far from clear. Scientists are actively searching for more evidence to find out where, why, and how Omicron evolved. Figuring this out is important because it could help us prevent the virus' next evolutionary leap. The steps we would take to prevent the evolution of a new viral strain in wild animal populations, for example, is very different from those we would take to prevent the spread of new strains from immunocompromised people.  Stay tuned to Evo in the News to find out where these ongoing investigations lead – and what they illustrate about how evolution works.
Primary literature:
Corey, L., Beyrer, C., Cohen, M. S., Michael, N. L., Bedford, T., and Rolland, M. (2021). SARS-CoV-2 variants in patients with immunosuppression. New England Journal of Medicine. 385: 562-566. Read it »
News articles:
Understanding Evolution resources:
Reference the evolutionary tree in the article above in your responses to the following items:

Describe how the Omicron and Delta strains are related to one another evolutionarily.
Explain how the tree supports that explanation of the two strains' relationship.

In your own words, explain why scientists were surprised by the appearance of the Omicron strain.
According to the article above, what are three places that the Omicron strain's evolution could have been hidden from our efforts to monitor SARS-CoV-2?
According to the article above, most of the evolution of SARS-CoV-2 occurs as the virus spreads from person to person. In your own words, explain why this is.
Explain why we might observe more evolution SARS-CoV-2 when it infects an immunocompromised person in comparison to when it infects a person with a fully functioning immune system.
Teach about the evolution of another coronavirus strain. In this news brief, from January of 2006, high school and college students can learn how scientists traced the source of a breakout SARS virus in 2002 and 2003. Using phylogenetics, biologists came up with a plausible path of transmission which may help us prevent future outbreaks of new human diseases.
Teach about how scientists research the evolutionary origins of new human viruses. This multi-part case study for the college level explores changes in Simian Immunodeficiency Virus in different chimpanzee populations and how researchers use this information to test hypotheses about the origins of HIV.
Teach about the evolution of a virus within a single person. This research profile for the high school and college levels follows scientist Satish Pillai as he studies the evolution of HIV within infected individuals. His research uses the tools of phylogenetics to investigate vaccine development and the possibility of curing the disease.
Corey, L., Beyrer, C., Cohen, M. S., Michael, N. L., Bedford, T., and Rolland, M. (2021). SARS-CoV-2 variants in patients with immunosuppression. New England Journal of Medicine. 385: 562-566.
Kupferschmidt, K. (2021). Where did `weird' Omicron come from? Science. DOI: 10.1126/science.acx9754
Le Page, M. (2021). Stopping coronavirus variants. NewScientist. 252: 18-25.