Image Caption
Plants and animals are domesticated through artificial selection, which works like natural selection does, but with humans instead of nature doing the selecting. Here, humans plant only the plump teosinte kernels, the plants that grow from those seeds carry more genes for plumpness, but they still vary in many ways. Over many generations of selection, the frequency of desirable gene variants increases in the population and so does the quality of the crop.
Image use policy: For non-commercial, educational purposes, this image may be used with a Creative Commons CC BY-NC-SA 4.0 license. Please credit as follows: © University of California Museum of Paleontology, Understanding Evolution, www.understandingevolution.org
See where this image appears on the Understanding Evolution website »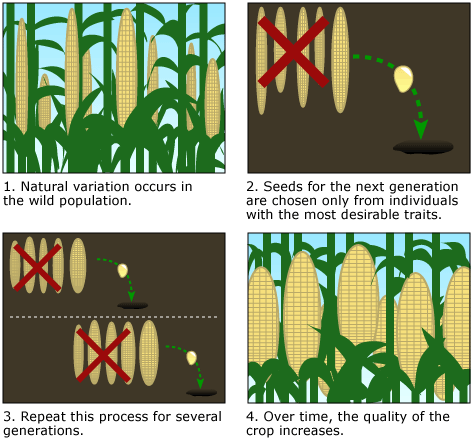 To save: 1) Click on image for the full-size version, 2) right-click (Windows) or control-click (Mac) on the image, and 3) select "Save image."