Image Caption
Hypothesis 2: Punctuated equilibrium — a large amount of change in a short time, tied to a speciation event. Species 2 and 3 are only 100,000 years younger than ancestor 1, and all the evolutionary change connecting them took place in this short time. The "burst" of evolution is really a burst. Transitional forms between ancestor 1 and species 3 did exist, but for such a short amount of time that they were not preserved in the fossil record.
Image use policy: For non-commercial, educational purposes, this image may be used with a Creative Commons CC BY-NC-SA 4.0 license. Please credit as follows: © University of California Museum of Paleontology, Understanding Evolution, www.understandingevolution.org
See where this image appears on the Understanding Evolution website »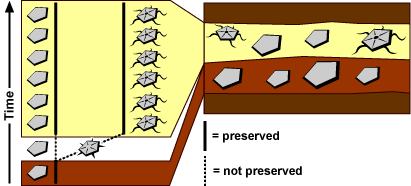 To save: 1) Click on image for the full-size version, 2) right-click (Windows) or control-click (Mac) on the image, and 3) select "Save image."
This image is part of a series: