Image Caption
Disaster strikes: A hurricane washes the bananas and the immature fruit flies they contain out to sea. The banana bunch washes up on an island off the coast of the mainland. The fruit flies mature and emerge onto the lonely island. The two portions of the population, mainland and island, are now too far apart for gene flow to unite them. At this point, speciation has not occurred — mainland and island fruit flies can mate and produce healthy offspring.
Image use policy: For non-commercial, educational purposes, this image may be used with a Creative Commons CC BY-NC-SA 4.0 license. Please credit as follows: © University of California Museum of Paleontology, Understanding Evolution, www.understandingevolution.org
See where this image appears on the Understanding Evolution website »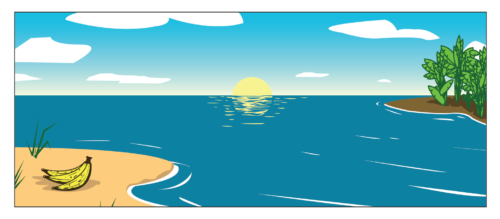 To save: 1) Click on image for the full-size version, 2) right-click (Windows) or control-click (Mac) on the image, and 3) select "Save image."
This image is part of a series: