Jackson's work isn't limited to crocodiles, but it is squarely focused on human origins and on the ecological interactions that shaped the evolution of our hominid predecessors. For example, with Leslea Hlusko from the University of California, Berkeley, Jackson is currently organizing a survey of all the vertebrate fossils at Olduvai. In the 40 years since major collections were last made at the gorge, the wind and rain have had plenty of time to weather out more fossils. There's a good chance that the team will find new hominid and other vertebrate fossils that will help paint a clearer picture of the environments in which our tool-using ancestors evolved in the last two million years.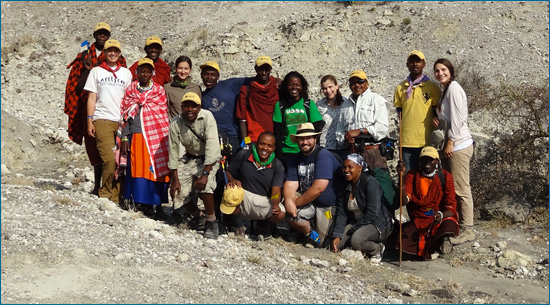 Nevertheless, crocodiles do hold a special fascination for Jackson. You can be sure that he'll be paying particular attention to any croc teeth or bones that turn up in the survey at Olduvai. His work at Olduvai has already turned up one new species — the 1.8 million year old fossils of Crocodylus anthropophagus (i.e., "man-eater").5 Jackson is always on the lookout for his "holy grails" — a hominid fossil with a crocodile tooth embedded in it and convincing evidence of hominid butchery marks on crocodile fossils. And, of course, he's continuing his research on crocodile taphonomy and predation ecology, now focused on naturalistic studies of crocodiles in the margins of Lake Victoria, which seems to be a close analog of many African Rift Valley paleontological sites such as Olduvai Gorge.
Such studies won't end anytime soon, and neither will his interactions with researchers all over the world. "Every time you think you resolve one problem, another question comes up," says Jackson. "Now I find myself in this situation with the crocodile work. We need to study crocodiles in their natural conditions in more environments, and there are more feeding experiments we need to do. A lot of new questions came up after other people read our articles and commented on them or debated their findings. They made me start to see other things and expand my hypotheses beyond my previous research. Now I am testing these hypotheses against new experimental, ecological, and paleontological data. When you do a study for the first time, you are just focused on the question you are asking. But when other people see your work, they come up with different questions, and those questions are often the most interesting ones." Jackson's detective skills will be put to good use as he continues his investigations of the ecosystems of our ancestors.
Jackson's career path and work highlights the ways that scientific research crosses borders, benefitting from collaborations among diverse individuals. Says Jackson, "I think that, since I started out, the sense of international and interdisciplinary collaboration in science has increased tremendously. My professors in college at the University of Dar es Salaam included Tanzanian, American, British, and Norwegian nationals. Then I came to the U.S. to do my graduate studies, so I had this international exposure throughout my education. And the ongoing projects that I am currently co-leading at Olduvai are very multinational and interdisciplinary, with faculty, undergrads, and graduate students all working together. Collaborative work produces excellent results. For example, taphonomic analysis of bones won't tell you too much if you don't have good contextual information, such as geological, paleontological, paleobotanical, and archaeological contexts of the assemblage or site. But if you can bring all these lines of inquiry together, then you can get a really good picture of the paleoecological contexts of human evolution."
Discussion and extension questions:
What is taphonomy? Give four examples of taphonomic processes.
Give four examples of taphonomic evidence that might indicate that an ancient animal represented by fossils was killed by a crocodile.
Describe two non-taphonomic lines of evidence consistent with the idea that an ancient animal represented by fossils was killed by a crocodile.
Describe two ways that studies of modern organisms can inform our understanding of past ecosystems.
How can taphonomic evidence inform our understanding of past life beyond helping us determine the nature of predator/prey interactions?
In the case of the H. habilis foot and leg fossils described above, stratigraphic evidence trumped taphonomic and other lines of evidence, causing Jackson to reject a hypothesis that much evidence supported. Do you agree with Jackson's rejection of the hypothesis that the foot and leg fossils came from the same individual? Are there any other ways to reconcile the opposing lines of evidence? Explain.
5 Brochu, C.A., J.K. Njau, R.J. Blumenschine, and L.D. Densmore. 2010. A new horned crocodile from Plio-Pleistocene hominid sites at Olduvai Gorge, Tanzania. PLoS One 5:e9333.