One key piece of evidence didn't fit with the hypothesis that the bones belonged to a single individual: the stratigraphy.4 The Leakeys had reported that the foot and leg fossils were found at locations about 200 meters apart and that the tibia came from a sediment layer above that of the foot bones. This difference had convinced other paleoanthropologists that the two specimens could not have come from the same individual. Because so many different lines of evidence, including anatomic and taphonomic data, pointed to a crocodile attack on a single H. habilis individual, Jackson and his colleagues wondered whether a curatorial mistake might have been made…
To find out, Jackson's team reviewed the Leakeys' original documentation of their dig and expanded their excavations at the sites where these fossils had been found. No mistakes turned up in the Leakeys' records. Their reports included photos of the bones in situ when they were unearthed, and according to the dates in the records, the tibia and foot bones were discovered about 10 months apart, making a mix-up unlikely. However, being deposited in sites 200 meters apart didn't necessarily spell doom for the single individual hypothesis. The bones could have been scattered to these locations by scavengers or other forces after the death of the individual. The real test would be in the stratigraphy — the rock layers in which the fossils were deposited.
Fossils can be dated relative to one another by examining their positions in rock layers, known as strata. Because new strata are deposited at the surface of the earth, we expect fossils in lower strata to be older than fossils above them. However, processes such as faulting, uplifting, erosion, and intrusion can disrupt this simple pattern. This possibility means that relative dates cannot simply be "read off" the rocks. Instead, some reconstruction of past geologic events is necessary to figure out which strata are older and by how much. Furthermore, determining which strata correspond to one another in different locations can be tricky.
When Jackson's team reexamined the stratigraphy of Olduvai Gorge, paying special attention to the locations in which the foot and the tibia had been found, it became clear that the two fossils could not have belonged to the same person. The sediment layer in which the tibia was found corresponds to a layer more than half a meter above that of the foot bones, implying that the foot bones were deposited 8000-12,000 years before the tibia was. In this case, the geologic context overrode morphological and taphonomic evidence, pointing to two separate croc attacks on two different individuals in two distinct time periods.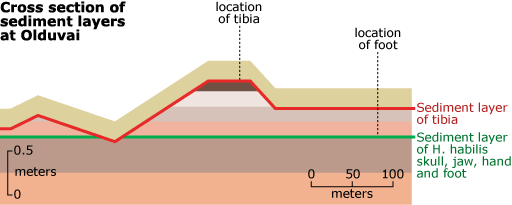 4 Blumenschine, R.J., I.G. Stanistreet, J.K. Njau, M.K. Bamford, F.T. Masao, R.M. Albert, …, and J.I. Ebert. 2012. Environments and hominin activities across the FLK Peninsula during Zinjanthropus times (1.84 Ma), Olduvai Gorge, Tanzania. Journal of Human Evolution 63:364-383.