Elizabeth knew that PGI, as an enzyme, would be sensitive to temperature. Enzymes are made up of a chain of amino acids that fold up into a very particular molecular machine, with the job of grabbing two other molecules and moving them together to react. When enzymes get too hot, they unfold and no longer have the structure to do their jobs. Her question was whether the two versions of the PGI enzyme responded differently to temperature. To find out, Elizabeth and her students extracted PGI protein from beetles with each of the three genotypes: PGI-1-1, PGI-1-4, and PGI-4-4. In the lab, PGI from 1-1 beetles fell apart and stopped working with just a little heat, while PGI from 1-4 beetles could stand higher temperatures, and PGI from 4-4 beetles could be heated the most before breaking down. Elizabeth's first studies of PGI supported their hypothesis; in a laboratory test tube, the "warm-adapted" version of PGI held up better under hot temperatures.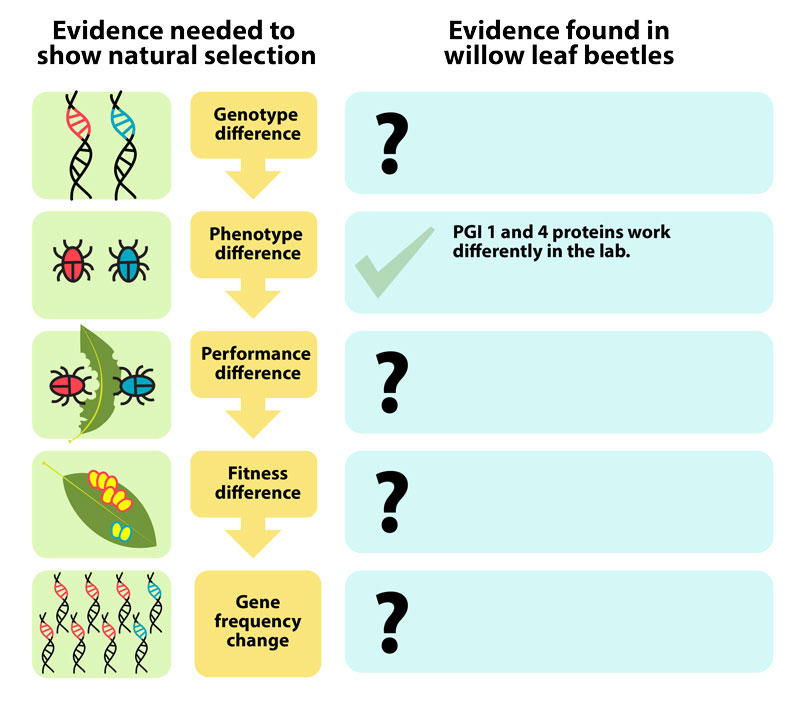 But of course, what an isolated enzyme does in a physiology laboratory on a college campus may not match what the same enzyme would do in the complex environment inside a living beetle on mountain in the wild, no matter how simplified its ecology. Elizabeth and Nathan needed to show that there were physiological differences in the wild between beetles using different versions of the PGI protein.
So that beetles could be collected from the wild and immediately used in experiments, Nathan and Elizabeth started running experiments at laboratories in the mountains and high deserts of eastern California. Over the years, their research team (Team Beetle!) has included a wide range of participants, from Elizabeth's and Nathan's daughters to Nathan's original graduate advisor John Smiley, and of course, many undergraduate students. Most summers, the team lived for weeks at the remote field station and laboratory, trekking up to 18 miles a day to survey the beetle populations spread over the peaks, lugging respirometers and heavy equipment over dirt roads, running experiments, and repairing blown out tires. All that effort would soon pay off.