When Nathan first began to study genetic differences among the beetle populations, he had to study PGI genotypes by painstakingly running proteins from different beetles through a gel and visually assessing if one protein moved further than another. At the time, DNA sequencing machines were brand new, slow, and expensive. Since then, the field of genomics has exploded due to improvements in sequencing technology that have made the process easy, quick, and cheap. You will soon be able to sequence your entire genome for less than $100. So it is entirely reasonable (if a bit ironic) that it was only in 2015 that Elizabeth and Nathan (with the help of another scientist, Christopher Wheat) identified the actual DNA difference underlying all of their research.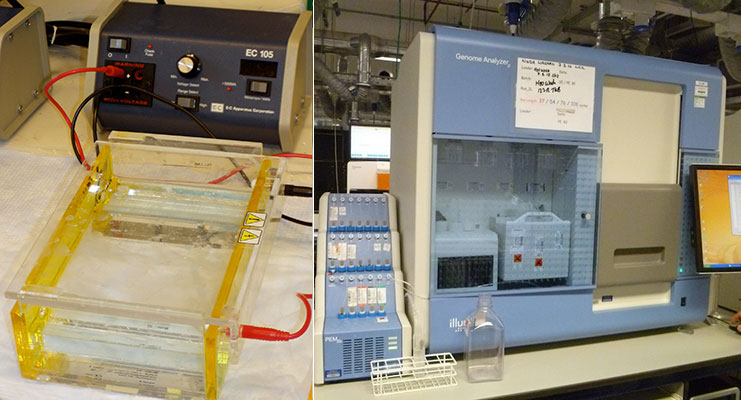 A PGI molecule is made up of a chain of about 550 amino acids, and PGI-1 and 4 differ by a single amino acid. This difference traces back to an even smaller difference in DNA: a single base pair substitution (i.e., a SNP — single nucleotide polymorphism) distinguishes the two PGI versions. About a third of the way along the protein-coding section of the PGI gene, PGI-1 chromosomes have a guanine (G) base and PGI-4 chromosomes have an adenine (A). This last detail completes the chain of evidence that Elizabeth and Nathan set out to discover two decades ago.
While that might seem like the end, in fact, for these scientists, it is only the beginning of a multitude of new questions. Elizabeth and Nathan still want to understand the exact mechanism through which PGI affects temperature-related physiology. In particular, they are curious if the two versions of PGI themselves act differently in metabolism or whether the two versions might instead signal a chain reaction of other effects that don't have anything to do with PGI's own function in metabolism. In addition, tantalizing new research coming out of their labs suggests that interactions with the mitochondrial genome, as well as the parasitic microbe Wolbachia, which infects these beetles, play critical roles in shaping their response to temperature. And a new partnership they've formed with Caroline Williams, another evolutionary biologist, aims to tackle an important gap in our knowledge of the beetles' lives: what happens to them physiologically and evolutionarily when they are dormant in the winter.