As a student, Nathan had envisioned himself a tropical biologist observing the butterflies of the rainforest. But Costa Rican field studies are expensive ventures, so when he got funding to study a domestic beetle in the Sierra Nevada, he took it.
The willow leaf beetle leads a relatively simple — and short! — life. Adults emerge from overwintering in snow-covered soil in early summer and immediately start mating and eating willow leaves. They lay eggs, the eggs hatch, and a new generation of adults grows over the course of the summer before heading underground and going dormant for the next nine months. And so the cycle repeats itself.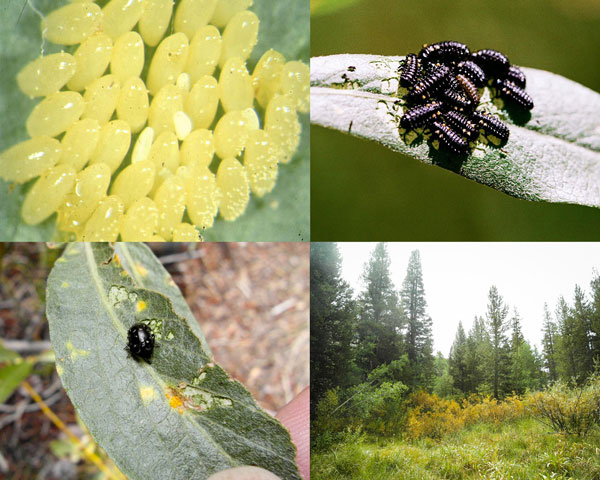 After learning about the natural history of the beetle in the wild, Nathan realized that he'd lucked into a species that was perfect for studying animals' response to environmental change. The beetles have small bodies so they respond to environmental change quickly; they live in an undisturbed environment so Nathan could be sure he was studying the effects of a "natural" environment change and not the effects of a nearby city or highway; they mate and grow quickly so evolution can be observed in real time; and they have a relatively streamlined ecology. "Their food web is simple," Elizabeth explains. "They eat willows. They only have a couple of predators. So if we want to understand the whole ecological scene, we don't have a lot of players in the game."
One of the first things Nathan wanted to do was to establish the history of the Sierra populations and how they were all related to one another. At the time, the way to do this was to screen 20 or 30 proteins and look for those that varied among individuals, which would indicate that the gene encoding that protein also varied. When a gene occurs in different versions (i.e., alleles) in a population, it is called a polymorphism — e.g., sickle cell anemia occurs when a person carries one normal hemoglobin protein and one hemoglobin protein with a single base pair difference, and so we say that the hemoglobin gene is polymorphic. Nathan tested the beetles' proteins. "I had five enzymes that showed reasonable polymorphisms," he recalls. "And then one popped out as being different from everybody else, and I was actually disappointed. I was like, 'Uh oh, one of my five isn't working right!'" The protein in question was phosphoglucose isomerase (PGI for short), and of course, it was working right. But, as he would soon find out with Elizabeth's help, the differences in this gene didn't reflect differences in population history, but differences in the beetles' environments.
What is PGI?
PGI is a protein involved in energy metabolism. It is an enzyme (i.e., it causes chemical reactions between other molecules) that helps convert sugar into a form that cells can use for energy, ATP. These reactions are ancient and likely evolved in some of the earliest living cells on Earth, so many organisms across the Tree of Life have inherited the gene for PGI. Most Sierra Nevada willow leaf beetles have two versions of the PGI gene: PGI-1 and PGI-4. Since beetles are diploid (just like we humans are) with two copies of each gene, there are three possible PGI genotypes in these beetles: 1-1, 1-4, and 4-4. (Don't let the notation confuse you. This is the same as Mendel's peas having the genotypes PP, Pp, and pp; we are just using numbers instead of upper and lowercase letters.)