At the cellular and molecular levels, all living things are fundamentally alike. These basic similarities are most easily explained by evolution: life shares a common ancestor.
The cellular level
All organisms are made of cells, which consist of water-filled membranes that contain genetic material, proteins, lipids, carbohydrates, salts, and other substances. Notice the similarity between the typical animal and plant cells pictured below — only three structures, the cell wall, centriole, and chloroplast,  are unique to one or the other.  All the other structures occur in both types of cell, suggesting that they were inherited from a common ancestor that also had those cellular structures.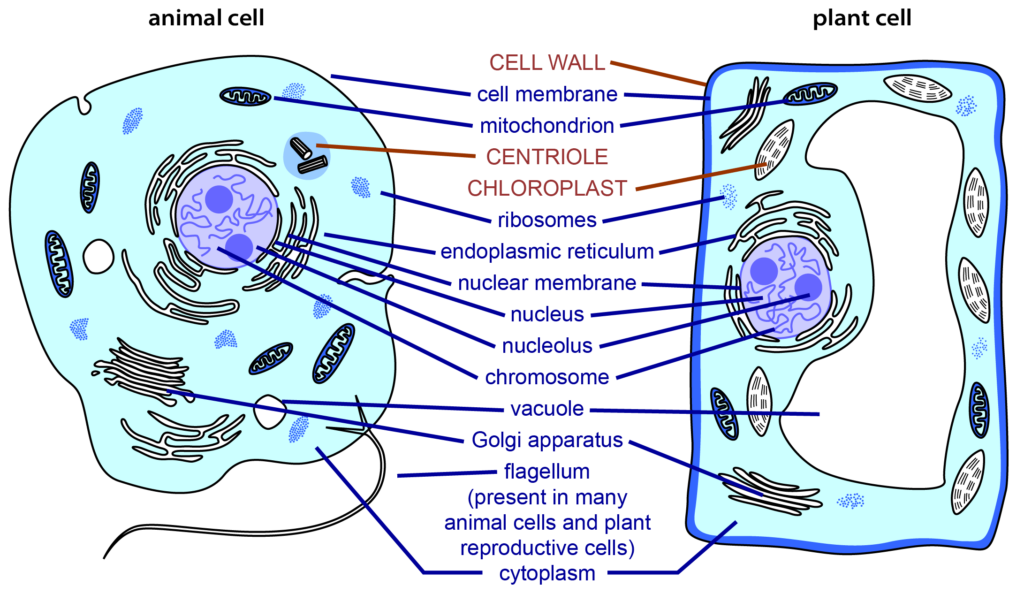 The molecular level
Different species share genetic homologies as well as anatomical ones. The genomes of humans and chimpanzees, of course, differ by only a few percent (and even less depending on which differences you are counting). But genetic homologies extend far beyond such closely related twigs on the tree of life. For example, 70% of human genes are homologous to genes found in acorn worms – eyeless marine worms that usually make their living filtering bits of food out of the water or mud. These genes are slightly different in each species, but their striking similarities nevertheless reveal our shared ancestry with creatures that might seem quite different from us.

In fact, the genetic code itself is a homology that links all life on Earth to a common ancestor. DNA and RNA possess a simple four-base code that provides an instruction manual for the growth, function, and replication of all living things. In some cases, if we were to transfer genetic material from the cell of one organism to the cell of another species, the recipient cell would follow the new instructions as if they were its own.  For example, if one of the genes that tells a mouse where to develop an eye is transferred into a fruit fly embryo, the fruit fly embryo understands the genetic instructions perfectly and develops eyes (fly eyes) where the mouse gene was injected.
These characteristics of life demonstrate the fundamental sameness of all living things on Earth and serve as the basis of today's efforts in genetic engineering.
Reviewed and updated, June 2020.
Acorn worm homolog data from Simakov, O., Kawashima, T., Marlétaz, F. et al. (2015). Hemichordate genomes and deuterostome origins. Nature 527, 459–465. https://doi.org/10.1038/nature16150