A fossil that shows an intermediate state between an ancestral trait and that of its later descendants is said to bear a transitional feature. The fossil record includes many examples of transitional features, providing an abundance of evidence for evolutionary change over time.
Transitions in whale evolution
For example, Pakicetus (below left) is a close relative of ancient whales. We know that pakicetids were closely related to whales and dolphins based on a number of unique specializations of the ear. But pakicetids lived on land and had nostrils at the front of the skull, as modern cows and sheep do. The ancestors of whales probably looked something like Pakicetus. How did evolution go from something like Pakicetus to modern whales (below right), with nostrils (aka, the blowhole) at the top of the head? If a pakicetid-like ancestor gave rise to modern whales, we would expect the lineage to have passed through an intermediate form – one with nostrils in the middle of the skull.
And indeed we do find evidence of this transition in the fossils of Aetiocetus (above middle), which had nostrils in the middle of its skull.

Transitions in horse evolution
The fossil record of horses provides other examples of transitional features. Modern horses (members of the genus Equus, which also includes donkeys and zebras) have just one toe—the hoof.  However, the ancestors of modern horses, which lived more than 50 million years ago, had four toes. We know this from fossils of the earliest horses, like those of Eohippus (also known as Hyracotherium). If modern horses arose from a four-toed ancestor, we'd expect the lineage to have passed through intermediate forms with an intermediate number of toes. In fact, the fossil record contains many examples of these, represented by three-toed Archaeohippus and Parahippus on the tree below. In this case and many others, fossils bear transitional features that provide strong evidence illustrating how major evolutionary changes occurred.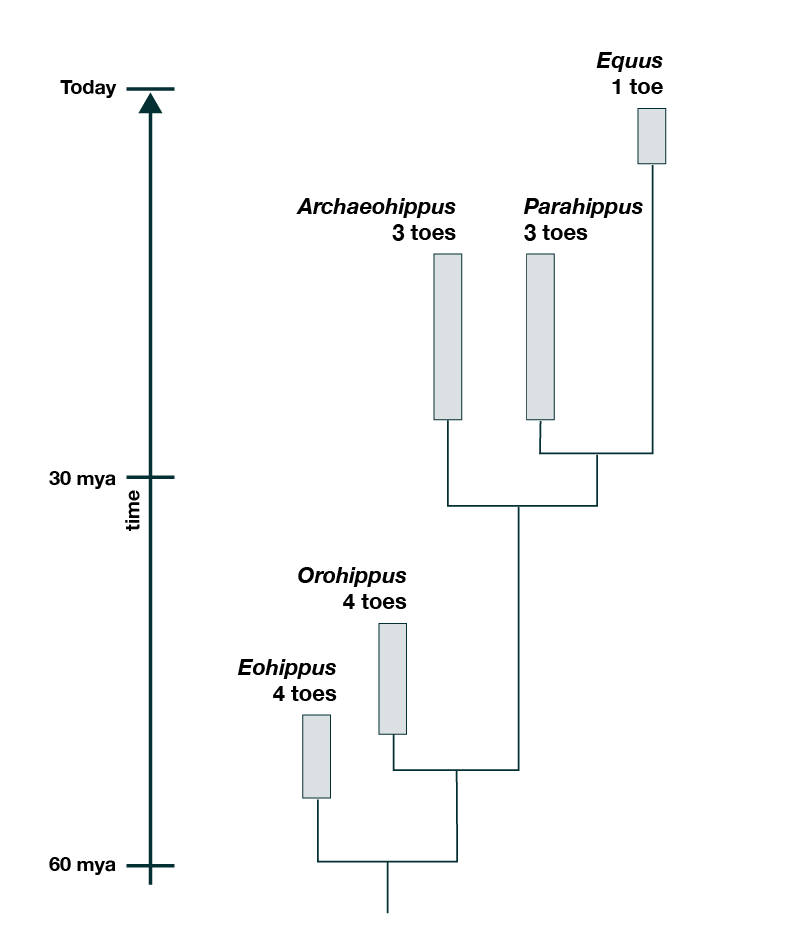 Reviewed and updated, June 2020.