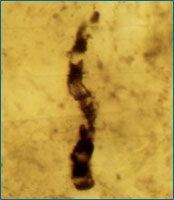 La evolución comprende una gran variedad de fenómenos: desde la aparición de los principales linajes hasta las extinciones masivas o la evolución de bacterias resistentes a los antibióticos en los hospitales en la actualidad. Sin embargo, dentro del campo de la biología evolutiva, el origen de la vida tiene un interés especial porque estudia una pregunta fundamental: ¿de dónde venimos (nosotros y el resto de los seres vivos)?
Muchas líneas de pruebas iluminan el origen de la vida: los fósiles antiguos, la datación radiométrica, la filogenética y la química de los organismos actuales, incluso los experimentos. No obstante, dado que se están descubriendo nuevas pruebas constantemente, es posible que las hipótesis sobre cómo se originó la vida cambien o se modifiquen. Es importante tener en cuenta que los cambios que se producen en este tipo de hipótesis son una parte normal del proceso de la ciencia y no representan un cambio en los fundamentos de la teoría evolutiva.
Aquí, puede aprender hipótesis importantes en cuanto a cuando, donde, y como la vida originada y averiguar como los científicos estudian un evento que ocurrió tan hace mucho.
Original translation by the Spanish Society of Evolutionary Biology; translation editing by Maya deVries.