Misinterpretations and intuitive ideas about evolutionary change
Research suggests that students, teachers, and the general public tend to misinterpret the representation of change on trees in the following ways:
---
INTUITIVE INTERPRETATION: A long, unbroken branch on a phylogeny indicates that little evolutionary change has occurred in that lineage and that this lineage is likely to retain ancestral characteristics — or may even be the ancestor of other organisms on the phylogeny.1, 2, 4
SCIENTIFIC INTERPRETATION: In most phylogenies, branch length does not indicate anything about the amount of evolutionary change. When branch length is used to depict evolutionary change, longer branches indicate more evolutionary change.
EXPLANATION: Long, unbroken branches appear on a phylogeny when one small clade is the sister group to a large clade — either because the small clade is comprised of only a few lineages or because the tree designer opted to show only a few members of the clade on the phylogeny. The long, unbroken branch is caused by the relative size of the clades and has nothing at all to do with the amount of evolution a lineage has undergone. For example, in the phylogeny at left below, the flowering plants are the sister group to a larger clade and so have a long branch. However, in the phylogeny at right, more examples of angiosperms have been included on the phylogeny and the clade's taxa have shorter branches. Outgroups often appear as long, unbroken branches because their full diversity is rarely represented, not because they necessarily retain many ancestral characteristics. Even if a particular group actually is comprised of just a few lineages, it doesn't indicate anything about the amount of evolutionary change that has occurred within that lineage.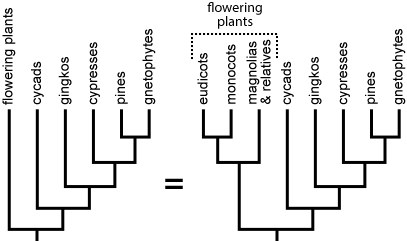 ---
INTUITIVE INTERPRETATION: Evolutionary change occurs only at times that correspond to the nodes of a phylogeny.1, 3
SCIENTIFIC INTERPRETATION: The nodes on a phylogeny correspond to the relative time of lineage splitting. Evolutionary change may occur at any point along the branches of a phylogeny.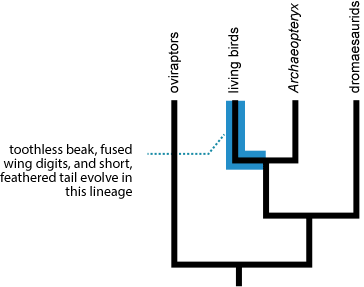 EXPLANATION: An evolutionary tree depicts the relatedness of taxa through a series of branches that diverge at nodes. The branches leading up to a node represent the common ancestry of descendent lineages. However, a divergence between populations at a particular point in the past does not necessarily mark the precise moment of evolutionary change in physical, behavioral, or molecular characters that make descendent lineages distinct. Such changes may have occurred at this point and/or may have occurred later in these lineages' evolutionary history.
1 Gregory, T.R. 2008. Understanding evolutionary trees. Evolution and Education Outreach 1:121-137.
2 Crisp, M.D., and L.G. Cook. 2005. Do early branching lineages signify ancestral traits? Trends in Ecology and Evolution 20:122-128.
3 Baum, D.A., S.D. Smith, and S. Donovan. 2005. The tree-thinking challenge. Science 310:979-980.
4 Meir, E., J. Perry, J.C. Herron, and J. Kingsolver. 2007. College students' misconceptions about evolutionary trees. American Biology Teacher 69:71-76.