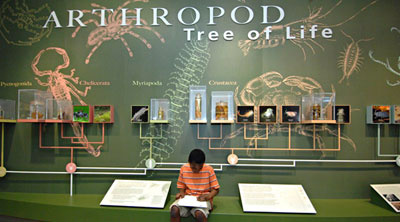 As you may know from exploring our section on common misinterpretations, visitors are likely to come to your institution with many intuitive ideas about how to interpret evolutionary trees. Using the following tools can help you guide them in the right directions:
Tree design tips — Find out how educational research can help you design tree graphics that are easier to interpret.
Tree toolkit — Use these guiding questions to choose a strategy for building a tree-oriented exhibit.
Tree database — This database of trees from museums and zoos gives an overview of the approaches that other institutions have taken.
You can also learn about how exhibit designers, developers, and curators at institutions across the country have incorporated evolutionary trees into their exhibits with our case studies. Explore the following interviews to find out about the challenges they faced, lessons learned, and recommendations for informal science institutions interested in communicating about evolution using tree diagrams: